'Ridiculous' Christmas outfits raise £1,500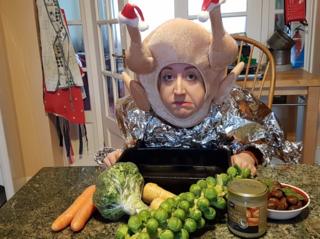 A woman has raised more than £1,500 for charity by wearing "ridiculous" festive outfits every day leading up to Christmas Day.
Rhiannon Hulse, who works for Safe & Sound, also wanted to raise awareness of the Derby-based charity's work tackling child sexual exploitation.
She asked people to email her with suggestions and costumes to borrow.
They have included a turkey, a human Christmas tree and the Grinch.
"It's been really good at building morale for the team at Safe & Sound," Ms Hulse said.
"They are really hardworking and they have to hear and see some really not very nice things, whereas I've been putting a smile on their face every morning coming in to the office dressed as something else ridiculous."
Ms Hulse said it was usually difficult to talk with the public about the charity's work, but there has been a good response to her "Festive Fool" challenge.
"I wanted to raise awareness by dressing silly, so people come up to me, talk to me, want to find out more about what we do," she said.