Up'Ards win Ashbourne Royal Shrovetide Football game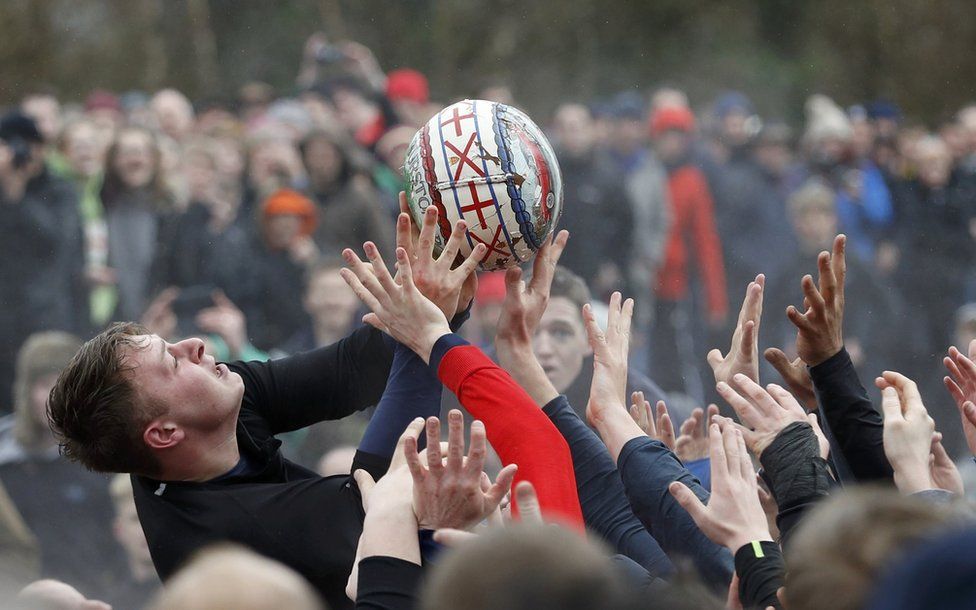 Play has ended in a mass game of football that has been played in a Derbyshire town for centuries.
Ashbourne's Royal Shrovetide Football game involves two sides competing to move a ball to posts at opposing ends of the town.
It takes place across fields, streets, car parks and waterways each Shrove Tuesday and Ash Wednesday.
The game was won 1-0 by the Up'Ards, who defeated the Down'Ards in the two-day event.
The Up'Ards - traditionally those born north of Henmore River - play against the Down'Ards from the south of the town's river.
Each game begins with a guest of honour throwing the elaborately painted ball into the crowd.
Prince Charles and the late Nottingham Forest and Derby County football manager Brian Clough are among the famous names chosen to "turn up" the ball in previous years.
This year the honour fell to Dallas Burston, a former GP who became a businessman, and John Stubbs, a retired dairy farmer.
Shop windows around the town were again boarded up ahead of the famously hard-fought contest.
Players were also reminded they were not allowed to climb over parked cars or enter cemeteries, churchyards and memorial gardens.
A goal was scored by Kurt Smith at about 20:20 GMT on Tuesday and it took nearly and hour for it to be confirmed. There were no goals on Wednesday.
What is Royal Shrovetide Football?
The game has been played since at least 1667, although the exact origins are unknown because the earliest records were destroyed in a fire
Play starts at 14:00 each day and can go on until 22:00
The two teams are known as the Up'Ards and the Down'Ards - reflecting whether players live north or south of the River Henmore
The game resembles a mass rugby scrum and features hundreds of players fiercely competing to move the ball to their allotted end of the town
The actual process of "goaling" a ball requires a player to hit it against a millstone three successive times
Once the ball has been goaled, a new game begins if there is enough time