Derby rapist on loose since 2014 linked to four attacks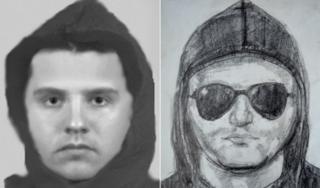 A sex attacker who has been on the loose for more than two years has been linked to four attacks in Derby.
Three women were seriously assaulted in Spondon - the first in September 2014 - and another raped in Darley Abbey.
Detectives believe the attacker is connected to the local area and they are "working extremely hard" to catch him, Derbyshire Police said.
Supt Tracy Harrison said the four attacks have had a "life-changing impact" on the victims.
More on this story and other news in Derbyshire
The attacks
On 27 September 2014, a teenaged girl was sexually assaulted on a footpath between West Park Road and Acorn Way, Spondon, Derby, at about 20:50 BST
On 7 September 2015, a woman was raped near the nature reserve at Darley Park, Derby, at about 17:40 BST. The attack was later featured on Crimewatch
On 22 December 2015, at about 18:40 GMT a woman was sexually assaulted on the same footpath in Spondon
On 16 February 2017, a woman was sexually assaulted in Stoney Lane, Spondon at 11:00 GMT
The woman who was attacked in December 2015 described how she fought off the sex attacker.
Sarah, whose identity is being protected, said: "He kept punching me in the head and telling me to shut up.
"Then he was trying to undo my trousers and he was holding my throat. I felt like I couldn't get out the way. It was horrible.
"My friend could hear me screaming, so she rang the police."
The suspect
White, 5ft 8ins to 6ft tall
Aged between late teens and 40
Medium or stocky build with round, chubby face
Wearing black hooded top, black or dark grey tracksuit bottoms and dark grey or black trainers
In the February attack, he wore a dark, shiny zip-up jacket
During the Darley Abbey rape he had a can of Monster energy drink and a dark drawstring bag
Supt Harrison said the force had received "new lines of inquiry" after a dedicated phone number was set up to try to find the person responsible for the attacks.
"I want to thank everyone who has been in touch with us so far," she said.
"The calls and emails that have come in today have provided us with new lines of inquiry and we will be looking into them all."
Extra officers have been drafted in to patrol the areas where the attacks took place.