Runners 'show solidarity' for sex attack victim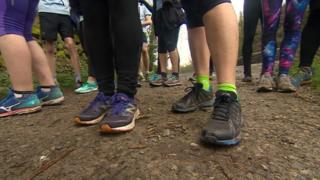 Several running clubs have held a special day of support for a runner who was sexually assaulted on a towpath.
The woman was attacked on the Cromford Canal near Ambergate in Derbyshire on Wednesday lunchtime.
Dozens of people from clubs in the area ran along the same towpath to "show solidarity" with the victim.
Police said the attacker was described as white, with fair hair and a medium build. He was wearing a grey hooded top and grey cap.
Runner Ruth Keeley said: "You always have to take necessary precautions and be aware of your surroundings but we should be able to come to these places and not be scared and stuck in our homes.
"We won't be scared off."