Police 'shocked' by abuse aimed at parking wardens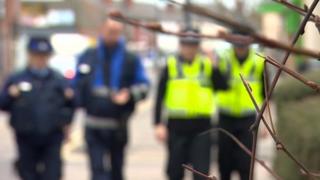 Traffic wardens have faced "shocking" abuse from people, say police support officers sent on patrol with them.
Officers from the Derbyshire force joined the wardens who have been threatened by people in the Normanton and Peartree areas of Derby.
PCSOs said they had seen "disgusting" behaviour, with pushing, dangerous driving and racial abuse.
But they also said the problems were from a minority and most public were supportive of the patrols.
Earlier this year, additional warden patrols were put on in response to complaints from businesses and residents.
Asaf Afzal, from Labour-controlled Derby City Council, said: "People decided to start abusing them and doing other things and that is when we went to the police.
"We asked, on health and safety grounds, that the police accompany them."
Wardens reported verbal abuse often focused on female members of their families.
PCSO Amy Ratcliffe said: "We were really, really, shocked the first time we did it. Some of the behaviour of members of the public was disgusting.
"At the end of the day the wardens are just doing their job.
"There were people pushing the wardens, trying to drive towards them and there has been a lot of racial abuse which is totally unacceptable."
At least one arrest has been made but both council and police insisted the majority of the public had been positive.