School's coat appeal after Joseph scarecrow stolen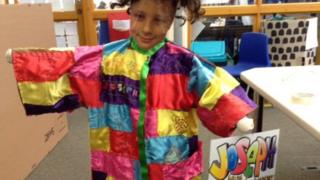 A Joseph scarecrow wearing an "amazing" technicolour coat has been stolen from a school just days before it was due to be worn in a play.
The scarecrow, part of a Derbyshire village's annual festival, was on display at Scargill Primary School.
Head teacher Andrew Poole said the thieves scaled the fence and left only one plimsoll behind.
The school's production of Joseph and the Amazing Technicolour Dreamcoat is due to open on Wednesday.
More news from around the East Midlands
Mr Pull said: "Each pupil put in about a day's work on each on their own bit of material that they sewed into an intricate pattern.
"One of our TAs spent about two days sewing it into a coat.
"It was the fact it was their hard work that was taken that makes it heart-breaking for everyone."
He said the school's Year 3 and 4 pupils were in the village touring the scarecrow trail and would be "keeping their eyes peeled" for the missing coat and Derbyshire police had been informed.
He added several other scarecrows had been damaged or stolen from the trail, which is in its ninth year. All proceeds are donated to charity.
Louise Trueman said on Facebook: "Each patch had a design on them that all year 5s had chosen and individuals hand sewed them on. Lots of hard work and time went in to this coat. Please please return."
Trail organiser, Pete Lilley, said: "People spend a lot of time and energy in producing the 65+ scarecrows that are on display throughout the village during this week, and to see those efforts destroyed overnight through mindless vandalism, fills us with anger and despair."