Show to go on after school's Joseph coat returned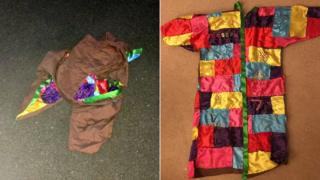 A school's "amazing" technicolour coat which was stolen along with a Joseph-inspired scarecrow has been returned.
The scarecrow, which was part of an annual festive trail, was taken from Scargill Primary School, West Hallam, Derbyshire at the weekend.
The head teacher appealed for the coat to be returned as it was needed for a school production on Wednesday.
The school tweeted the coat had been "unceremoniously chucked over [the] fence", but without the scarecrow.
"We would like to thank everyone who offered alternative Joseph coats," the tweet read.
"Who would have thought there were so many multi coloured coats!"
More on this and other stories across the East Midlands
In response, people tweeted it was the "best news of the week" and "I'm very glad someone had a conscience".
A staff member also offered to wash or repair the coat if need be before the play.
The coat was returned after a Facebook appeal was made by the school.
Head teacher Andrew Poole said the theft of the scarecrow and coat was "heart-breaking for everyone" because "lots of hard work and time" by the children and staff went into it.
Several other scarecrows were damaged or stolen from the trail, which is in its ninth year.