Derbyshire Boer war 'time capsule' makes £4,000 at auction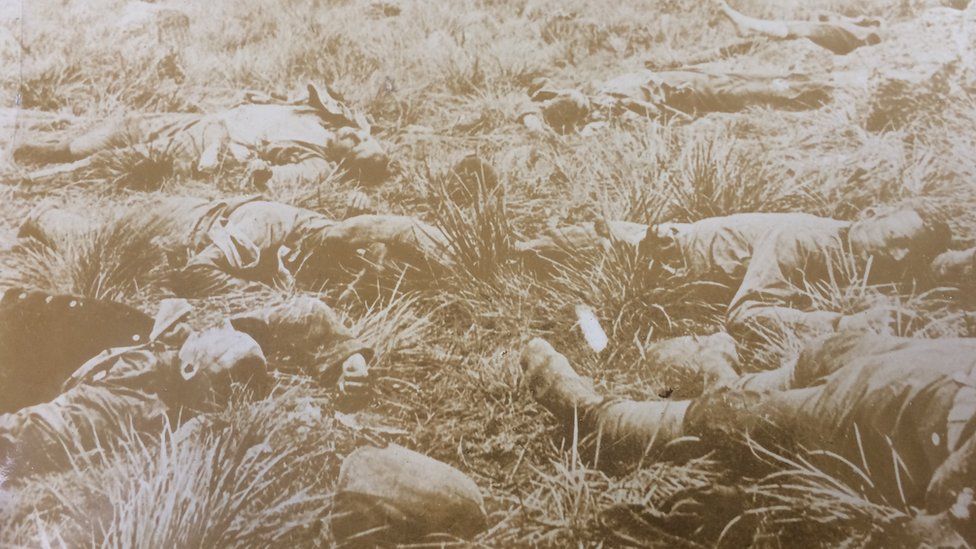 A treasure trove of items from one of the British Empire's toughest colonial wars has made eight times its estimated price at auction.
Medals, equipment and unpublished photographs from the Second Boer War were found in a house in Derbyshire.
The images were collected by Sgt Robert Oliver, who survived the 1899-1902 conflict as a policeman and then returned to the UK to run a pub.
The items had an estimate of £400-£600 but went under the hammer for £4,000.
The lot included 80 loose photos and more than 100 photos in a separate album.
These showed graphic images like British dead after a battle and a military funeral, but also lighter-hearted scenes like washing from a bucket and a dog smoking a pipe.
Describing the collection as an "incredible time capsule", Charles Hanson, of Hansons Auctioneers, said they had national and international interest.
The sale also contained two pairs of kid gloves, spurs, an ammunition bandolier, caps and hats, a South African feathered headdress and a cartridge belt.
Sgt Robert Oliver returned to Britain and continued to serve as a police officer before taking over the Devonshire Pub in Hartington, Derbyshire.
Related Internet Links
The BBC is not responsible for the content of external sites.