Lorry with bodged 'Blue Peter' windscreen stopped by police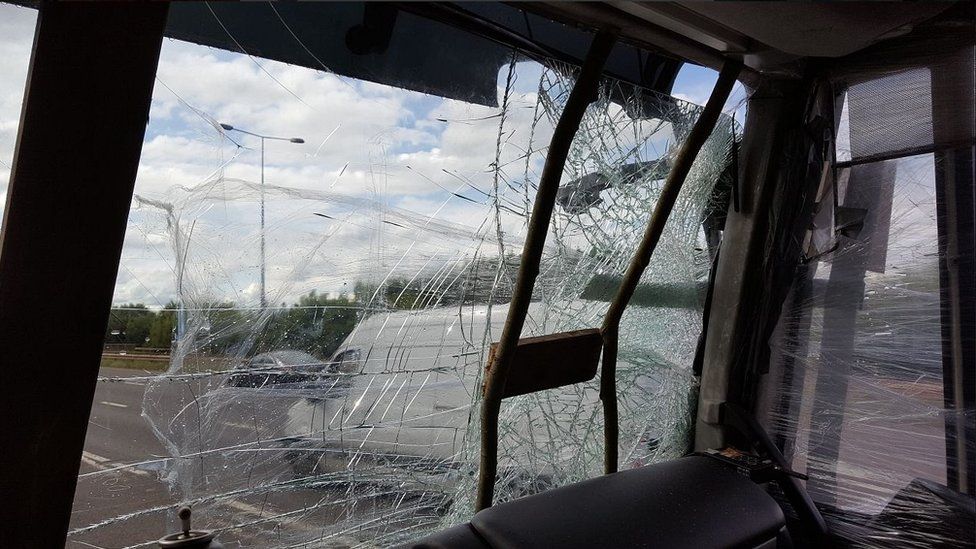 A lorry driver's bodged "Blue Peter repair" to a windscreen has sparked outrage on social media.
The driver had tried to support the broken windscreen with wood and branches while taping plastic over the cracks.
The damage - seemingly caused by a crash - was spotted by police on the A50 in Derbyshire on Wednesday.
Officers at the scene tweeted: "Put a stop to that before he [the lorry driver] kills someone."
The cab, which was towing a DHL trailer, had damaged trim and had also lost a wing mirror and a side window, which had been taped over.
Derbyshire's roads policing unit added in the tweet: "LGV Driver seemed to think it was OK to repair RTC damage with wood and branches & drive on."
In response, Nigel Varney tweeted: "Can't get my breath, so called professional driver thinking that was ok ? Should have his LGV entitlement revoked".
Helen, @MrsBunnyrabbit, tweeted: "That looks like a Blue Peter repair all that's missing is the sticky backed plastic".
DHL has not yet commented.
Related Internet Links
The BBC is not responsible for the content of external sites.