Village hen racing event like a 'Monty Python sketch'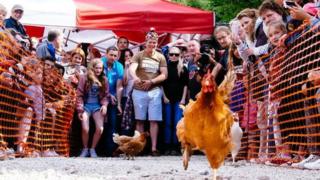 A village pub has hosted the 29th World Hen Racing Championships which has been described as the "Monty Python of events".
The event, held at the Barley Mow in Bonsall, Derbyshire, involves releasing "highly trained" chickens at the start line to see which is fastest.
Hundreds of people flock to the village to take part or watch.
Landlady Colette Dewhurst said, while the sport was a "bit of fun", some people took it very seriously.
Mrs Dewhurst said the event almost resembled a Monty Python's Flying Circus sketch due to its quirkiness.
The 1970s TV show saw John Cleese, Michael Palin, Terry Jones, Terry Gilliam, Eric Idle and Graham Chapman take part in the "silly Olympics" and notably the "3,000m race for people who think they're chickens".
"[Hen racing] is quintessentially English," said Mrs Dewhurst.
"Sometimes the chickens don't bloody move. They'll peck the ground, have a mud bath, go to the toilet or just sit there.
"The crowd go wild if they run... It's just dead good fun."
However, despite the free event being largely about entertainment there are some who are passionate about the sport.
"We've got a lad, Jack, who is 10 years old and he's won it twice in three years," she said. "He's been training [his hen] all year round."
The competition was introduced by a former landlord at the same pub in 1991 after he heard that it was a pastime in Derbyshire villages in the early 20th Century.
The pub opened at about 12:00 BST and registration for entrants began not long after.
Spring chicken Jack Allsop, aged nine, plucked an eggcellent first and second place with his birds Cooked It and Plucked It.