Derby shopkeeper denies 'preying on young girls'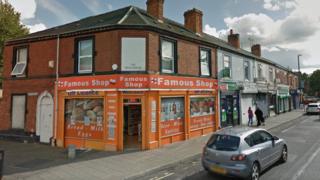 A shopkeeper has gone on trial accused of "preying on young vulnerable girls" who came to his store.
Dilan Amin, 27, who runs a shop called the Famous Shop on Pear Tree Road in Derby, denies a series of sex offences against girls, including one aged 12.
He is charged with four rapes, inciting a child for prostitution, four sexual assaults, paying a child for sexual services and supplying a Class A drug.
The offences are alleged to have happened between 2012 and 2017.
More stories from the East Midlands
A jury at Derby Crown Court heard that Mr Amin had taken one girl to a hotel for sex and told another girl that "if you go out with me you'll be treated like a queen, you'd get anything, you'll get new phones, you'll get new clothes".
Mr Amin, of Pear Tree Road, Normanton, had approached the girls at a shop owned by his brother, the court heard.
Prosecutor Ian West QC West said that one of the girls, who cannot be named for legal reasons, was 15 when he met her at a hotel in Derby where the girl was told to drink alcohol and take cocaine.
'Couldn't escape'
Mr West told the jury the girl said that Mr Amin had sex with her but she "lost part of her memory".
She said she did recall saying no when he first kissed her in the hotel room, the jury heard.
Mr West added: "By various methods, by plying them with alcohol and by being the older, more glamorous person, he [Mr Amin] took advantage and abused the girls set out in the indictment."
In the case of the alleged 12-year-old rape victim, the court heard Mr Amin took her to his house, which was situated at the back of the shop, and "grabbed her and put her on her side so that she was lying down... she could not escape".
Mr West said: "She is resentful of what [Mr] Amin has done to her childhood and the damage he has caused to her life and health."
The case continues and is expected to last four weeks.