Mike Ashley sues Tony Jimenez over golf course deal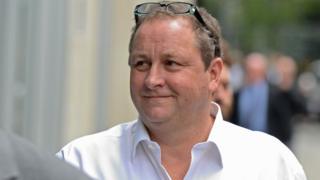 Sports Direct boss Mike Ashley is suing a business associate over an investment in a French golf course.
Papers lodged at the High Court in London allege breach of contract over a deal with Tony Jimenez made in 2008.
Mr Ashley, who also owns Newcastle United Football Club, is demanding the return of a £3m investment or compensation.
In a statement Mr Jimenez, who lives in Dubai, said the claim was "fabricated and malicious".
"Mike Ashley will regret the day he embarked on this action," he said.
"His claim is without foundation and his allegations are entirely untrue."
Last month Mr Ashley won a "comprehensive victory" in the High Court over an alleged £15m deal made with investment banker Jeffrey Blue in a London pub.
Mr Jimenez, who was a vice-president at Newcastle United under Mr Ashley before leaving in 2008, was involved in a similar dispute with ex-England international Dennis Wise, with whom he also worked at Newcastle.
In 2013 Mr Jimenez - a former co-owner of Charlton Athletic - had to pay Mr Wise compensation in a dispute centring on the same golf course.
Mr Wise had said he gave his "former close friend" £500,000 to invest in the development, but said the "agreed purpose" was not fulfilled and he was entitled to claim the money back.