'Extinct' flower found near Peak District walking route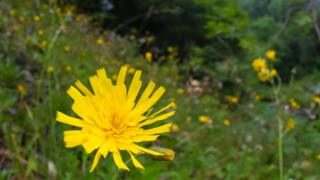 A plant thought to be globally extinct has been rediscovered growing near a popular country walking route.
The leek-coloured hawkweed, which resembles a dandelion, was discovered in Derbyshire in 1898 but not confirmed as a new species until 1942.
It disappeared from the area in the 1950s and died out at its only other site in Staffordshire some years ago.
Now staff from Kew's Millennium Seed Bank have found two small populations near the Peak District's Monsal Trail.
Just 62 of the plants, which grow in rocky limestone habitats, have been indentified in a nature reserve.
Dr Tim Rich, from Kew, said: "I was very, very pleased to find these two small but healthy populations growing near the Monsal Trail.
"Hawkweeds are fascinating and unusual plants, we know of more than 400 species of hawkweed in Britain.
"Many are very uncommon or rare, and include British hawkweed, Dales hawkweed and Derby hawkweed, which are unique to the Peak District."
Julia Gow, from Derbyshire Wildlife Trust which manages the reserve, said: "We were very excited to hear that leek-coloured hawkweed is thriving in our reserve.
"The rarity and particular biological requirements of this plant shows just how vital nature reserves are for providing places for wildlife and nature conservation - in this case, the entire world population of a species."