Five charged with modern slavery offences after raids in Derby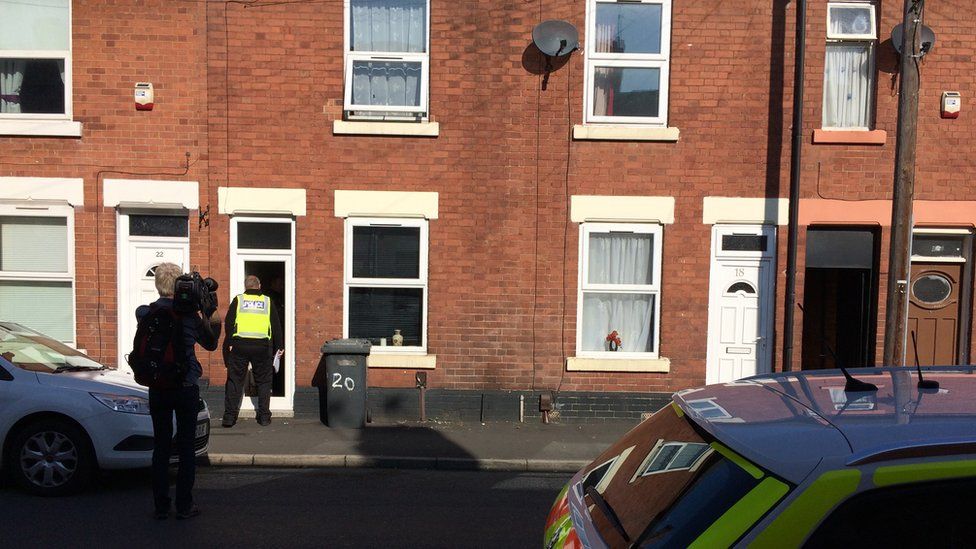 Ten people, who police say are believed to be victims of human trafficking, were found during the raids on Tuesday.
Derbyshire Constabulary said three men and two women appeared at Southern Derbyshire Magistrates Court on Friday.
A woman, 31, arrested during the raids, has been released while inquiries continue.
Ainars Pelcis, 53, of Rutland Street; Ilgvars Pelcis, 32, of St James Road; Karlis Aleksandrovs, 41, of Patmore Square; Magdalena Kleina, 54, of Rutland Street and Jolanta Pelce, 35, of Patmore Square have being charged with modern slavery and human trafficking offences.
They are due to appear at Derby Crown Court on 13 October.
On Tuesday, three raids were carried out in Rutland Street, one in St Giles Road and one in Balaclava Road.
The victims, who police believe have been trafficked into the UK from Latvia, are being given support.
Derbyshire Constabulary said they were probably working "for very little pay" and would not have had access to bank accounts that were set up in their names.
A total of 140 people were found by Leicestershire, Nottinghamshire, Derbyshire and Lincolnshire police forces between January 2014 and the end of 2016, according to a recent FOI request.
Related Internet Links
The BBC is not responsible for the content of external sites.