Mickleover Running Club turns out for attack victims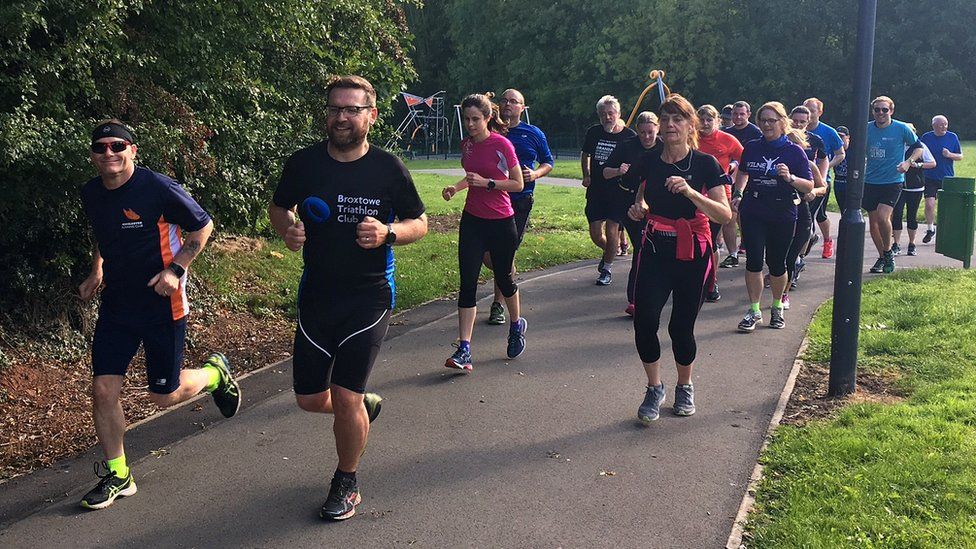 An athletics club in Derbyshire has organised a "solidarity run" in response to attacks on runners.
Mickleover Running Club gathered in the Meadows area near where a robbery happened earlier this month.
A 27-year-old woman was punched to the ground and kicked before a small amount of money was stolen.
About 40 runners took part, saying this and similar attacks were "not acceptable and would not make us afraid".
Other attacks reported in Cromford, Spondon and Willington had added to the urgency, members said.
Tracey Griffiths, chair of Mickleover Running Club, said: "A friend of mine was running and a man exposed himself to her.
"That and the latest attack have just left me incensed. These people don't have a clue of the impact of what they do.
"Running, like any exercise, has big mental and physical health benefits and if it puts just one person off, that is unacceptable."
Dai Cox, from the club, added: "This is a picturesque area on the edge of a housing estate, so its really sad its happened here.
"This has made some people nervous so as the nights draw in we thought it would be good to show we are not going to be intimidated."
Related Internet Links
The BBC is not responsible for the content of external sites.