Children 'hysterical' over no fuel M1 car near misses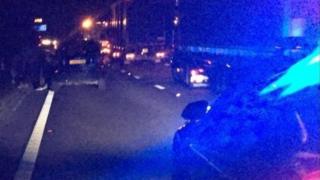 Police have criticised a driver who left children "hysterical with fear" after she ran out of fuel on a stretch of motorway with no hard shoulder.
The family came to a stop at 05:25 BST on Wednesday on the M1 northbound carriageway, near the Tibshelf services in Derbyshire, where police say she could have refuelled.
Officers said the "unacceptable" situation led to two near misses.
The driver was reported for driving without due care and attention.
Live updates from the East Midlands
A Highways England spokeswoman said their traffic officers dealt with more than 85,000 breakdowns every year on the roads they patrol.
She added: "In the last two years, over 40 per cent of these breakdowns were caused by vehicles running out of fuel, tyre maintenance, power loss and engine trouble."
A Derbyshire police spokesman said anyone driving on a motorway must make sure their vehicle has enough fuel to complete their journey safely.
He said: "Motorways are obviously high volume, high speed roads and the risks posed by coming to an avoidable stop are huge.
"The vehicle in this case ran out of fuel just past Tibshelf service station, which would have provided an opportunity for the driver to refill their tank with enough to get safely off the motorway.
"Luckily there were no injuries but the potential for a serious collision was clear."
What to do when you breakdown on a motorway
Highways England advises all drivers to have a breakdown insurance policy and keep the details of this with you in your vehicle at all times.
If your vehicle is damaged or experiencing difficulties, always try to exit the motorway at the nearest junction
If that's not possible, move into the nearest place of safety and always switch on your hazard warning lights. On most motorways this will be the hard shoulder or an emergency refuge area
If you can't move to the hard shoulder or emergency refuge area, get as close to the nearside verge as possible
If you feel you are able to exit your vehicle safely, consider exiting via the nearside (left hand) door. You should then contact Highways England via the roadside emergency telephones - if there is one and it's safe to do so
If it's not possible to get out of your vehicle safely, or there is no other place of relative safety to wait, then you should stay in your vehicle with your seat belt on and dial 999 if you have access to a working mobile phone
Department of Transport - Think! campaign