MP demands law change after 'Exocet' firework wrecks home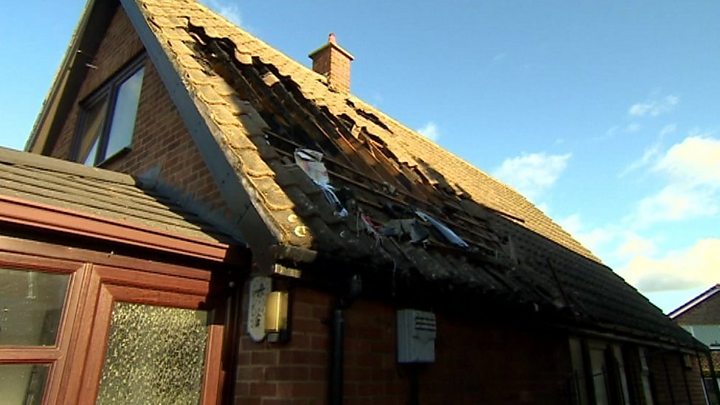 An MP has called for tighter restrictions on fireworks after a home was devastated by a four-foot rocket that sounded like "an Exocet missile".
The firework became lodged in the roof of the home in Derby and set it alight, causing homeowner Ted Bagshaw to have an angina attack due to the stress.
Derby North MP Chris Williamson said the current laws are "inadequate".
The shadow minister for fire and emergency services intends to raise the issue with "relevant ministers".
"I would support a ban preventing the general public from buying the most powerful fireworks," said Mr Williamson.
Mr Williamson added: "I don't want to criticise the police, more needs to be done, laws need to be tightened, fireworks are too powerful - more restrictions are needed. Are there sufficient restrictions to prevent black market sales?"
Wendy and Ted Bagshaw were at home in Littleover when the fire started on Saturday evening.
In an interview, Mrs Bagshaw explained that she had already suffered "the worst year of my life" because her mother, two aunts and two friends had all died.
Both her husband, who has a heart condition, and her father, who has prostate cancer, are ill.
A forensics team working for the insurance company found the remnants of a firework among debris from the house.
The stick of the rocket was four feet long, and they told the homeowners that it was for a professional display and should not have been sold to the public.
However, Derbyshire Police told the BBC that it was not investigating.
'No crime'
"We know who set it off and we have spoken to them," a spokeswoman said.
"They were having a fireworks event at their garden in the neighbourhood.
"They have set off a firework which they bought from a shop.
"We investigate crimes and no crime has been committed."
The couple are staying at a hotel but hope to move into a rented house soon while their own home is repaired.
A JustGiving page has been set up to help the couple and someone has come forward offering to help restore any salvageable photographs of Mrs Bagshaw's late mother.
"We've never known such support... "We've got our dogs, we've got each other and we've got more friends than we knew we had," said Mrs Bagshaw.