Alleged bomb plotter 'sends gory videos' to co-accused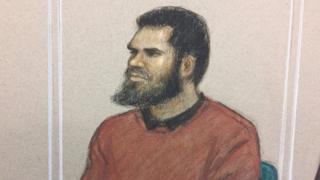 An alleged so-called Islamic State-inspired terror plotter sent gory videos to his co-accused to show her the "news", a court has heard.
Munir Mohammed is on trial at the Old Bailey accused of planning a bomb or ricin attack in the UK with chemist Rowaida El Hassan's help.
The prosecution alleged Mr Mohammed used Ms El Hassan's knowledge as he assembled ingredients for explosives.
The couple, who met through a Muslim dating website, deny the accusations.
His lawyer Charles Bott QC asked in court why he sent videos to Ms El Hassan depicting violence and death.
Asylum seeker Mr Mohammed, 36, originally from Eritrea, said: "Unfortunately, I do not have the program which allows me to edit the videos to cut the violent bits out.
"Mainly for the news that I had been sending these videos to her."
Mr Mohammed, who had been living in Derby since arriving in the UK on the back of a lorry in 2014, said in court he wanted to marry Ms El Hassan, 33.
Speaking through an interpreter, he also told jurors he had looked at so-called IS material because he wanted to get the news "from all directions".
His lawyer asked: "Did you ever say in your conversations with El Hassan that Isis was right?"
The former Kerry Foods factory worker said he would sometimes say it was "part of the reality or the truth" and at other times it was to "cover up the truth to divulge the news they wanted to say".
An example of so-called IS telling the truth was its "charity activities" and "support for orphans", he said.
Divorcees Mr Mohammed, of Leopold Street, Derby; and Ms El-Hassan, of Willesden Lane, north-west London; deny preparing terrorist acts between November 2015 and December 2016.
The trial continues.