Derby election signatures 'taken from pool petition'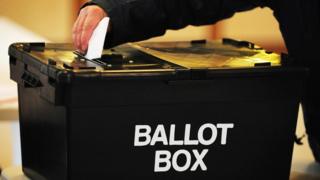 A political activist duped people into signing nomination papers backing members of his party to stand in an election, a court has heard.
Derby Crown Court was told Christopher Fernandez collected signatures from residents who thought it was a petition about the closure of a leisure centre.
The 59-year-old is accused of using the signatures to nominate Trade Unionist and Socialist Coalition (TUSC) candidates in the local elections.
He denies 14 charges of election fraud.
Mr Fernandez, of Wingfield Drive, Chaddesden, admitted making false statements on two nomination forms when appearing in court in April.
Candidates representing TUSC stood in eight wards in the elections for positions on Derby City Council in 2016.
To do that, their party agent Mr Fernandez had to collect dozens of nominating signatures from members of the public.
Pool closure petition
Janie Berry, director of governance and electoral registration officer for the council, told the court suspicions were first raised when two people who had nominated TUSC candidates had also backed candidates from the Liberal Democrats and UKIP.
The prosecution said 80% of the signatories believed they were signing a petition about the closure of Moorways swimming pool.
Julie Bridges told the court the pool's closure meant a lot to her and the paper she signed had Moorways on it.
The election nomination form presented in court lacked the word Moorways, but included her signature.
Mrs Bridges said she did not recognise the form and had not heard of TUSC.
The trial continues.