WWI hero Lawrence of Arabia's sandals to be auctioned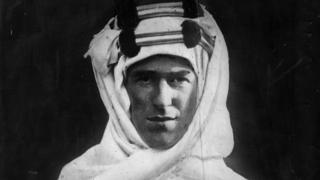 Sandals believed to have belonged to Lawrence of Arabia have been handed to auctioneers in a carrier bag.
Thomas Edward Lawrence served as a British officer in the Middle East during World War One and helped Arab tribes revolt against the Turks.
He was immortalised in an Oscar-winning film, starring Peter O'Toole.
The sandals, part of a collection which includes one of Lawrence's books, were left to a family friend and will be auctioned later this month.
Lawrence, born in Wales in 1888, was a diplomat, archaeologist and writer before becoming a soldier.
He lived in Dorset after the war and died in a motorcycle accident there in 1935.
The items were left to Rodney Havelock Walker, whose family was close enough to Lawrence that Walker was christened in the adventurer's own christening robe.
Another lot is a copy of Lawrence's book, Seven Pillars Of Wisdom, given to Walker by his parents.
Walker left the mementos to another family, who took them to be valued in the carrier bag.
Auctioneer Charles Hanson said: "When I pulled Lawrence of Arabia's sandals out of a Waitrose carrier bag, I was astonished - and delighted.
"He is one of Britain's most iconic figures, a man who played a key role in world history and inspired one of the most famous films ever made."
The collection goes on sale at Hansons Auctioneers in Etwall, Derbyshire, on 20 December.