Derbyshire trafficker paid 'slaves' 35p an hour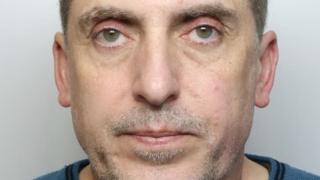 A 51-year-old man has been jailed for 45 months for trafficking people from the Czech Republic and forcing them to work for little or no money.
Miroslav Bily of Derby admitted trafficking five people in what is believed to be the first modern slavery conviction in Derbyshire.
The men were housed in poor conditions with dangerous wiring and no heating or hot water, Derby Crown Court was told.
They were paid as little as 35p an hour for decorating work.
Judge Peter Cooke said Bily was a "parasitic individual" who fed on victims who were isolated and could not speak English.
One of the men argued with Bily about the lack of wages and then refused to go to work.
He was spotted by a member of the public wandering the streets and eventually interviewed by police.
Other stories from around the East Midlands
The victim, 52-year-old Rudolph Csorba, told police: "I had no money on me so there was nothing I could do.
"He took us to work and said he would pay us every single week.
"After I had been there about 20 days, I asked him where the money was that I had earned.
"He said he didn't have any money and I would have to wait."
Det Cons Laura Sanders of Derbyshire Police said: "We're pleased with today's sentence, which is the first conviction the force has secured under the new Modern Slavery Act.
"If it weren't for that member of the public, and the attending paramedics, who knows what would have happened to this particular victim.
"It also shows the importance of knowing the signs of modern slavery and how to report it to the authorities."