Man jumped off M1 bridge after wife murder and stepson attack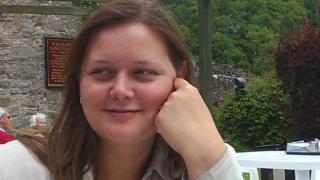 A man who jumped to his death on a motorway had fatally injured his wife and attacked his stepson with a nail gun, a coroner concluded.
Vincent Nagle was hit by a lorry on the M1 motorway near Trowell services, on 16 December, 2016.
His stepson Nathan Paton, was found in the street covered in blood in Borrowash, Derbyshire.
Nathan had alerted police to his mother Claire Nagle, who was found unconscious before dying later in hospital.
Louise Pinder, deputy coroner for Derby and South Derbyshire, concluded Mrs Nagle was unlawfully killed by her husband, who then killed himself by deliberately jumping from a bridge.
'My head's gone'
The inquest heard Mr Nagle, 44, attacked his stepson Mr Paton, then 22, at a property on Station Road at about 09:30 GMT on the day he died.
Mr Paton said he was hit on the back of the head with a shovel before being shot with a gas-powered nail gun, after which he heard Mr Nagle say: "That's one down, who's next?"
The inquest heard Mr Nagle then called his brother Joe and said: "I've lost it, my head's gone."
Mr Paton said he told police about his concerns for Mrs Nagle, leading officers to visit her house on Charnwood Avenue in Borrowash.
The 38-year-old was found to have died from "pressure on her neck".
Det Con Caroline Van Schaick, from Derbyshire Police, said a police investigation concluded she was strangled with a metal strip by Mr Nagle, her partner of 16 years.
Joe arrived at Mr Nagle's house after receiving a call from his brother, the inquest heard.
They drove towards the motorway, where Mr Nagle said he wanted to kill himself by driving into a wall.
The inquest heard the car pulled up and Mr Nagle was prevented from running into traffic by his brother.
Mr Nagle then ran up an embankment, followed by his brother, who Det Con Van Schaick said stepped back "in the hope he could talk him down".
"Vincent Nagle seemed to be waiting for an approaching lorry and as the lorry got closer he just dropped from the bridge," she said.
Police had visited Mr Nagle two days before his death, the inquest heard, after his mother had told them he said he wanted to kill himself.
Mr Nagle told them he was suffering from tinnitus and had been to see his GP for sleeping tablets, and was deemed fit and well by officers.
Dr Patrick Oniah, a locum GP, told the inquest he saw Mr Nagle on 14 December, where he said the tinnitus "drives him mad" but declined antidepressants as he "was not going to do anything because he has children".