WWI hero Lawrence of Arabia's sandals sold for thousands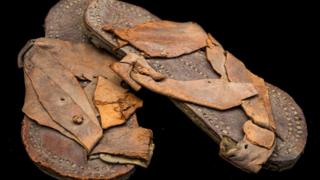 Sandals owned 100 years ago by Lawrence of Arabia have been bought at an auction in Derbyshire.
The footwear was part of a collection including one of Lawrence's books that had been left to a family friend.
The memorabilia was sold for £2,600 at Hansons Auctioneers in Etwall, Derbyshire.
Thomas Edward Lawrence served as a British officer in the Middle East during World War One, and was played by Peter O'Toole in an Oscar-winning film.
Lawrence, born in Wales in 1888, was a diplomat, archaeologist and writer before becoming a soldier.
He lived in Dorset after the war and died in a motorcycle accident there in 1935.
The collection of items had been given to Rodney Havelock Walker, a family friend who had worn Lawrence's christening gown.
They were presented to the auctioneers in a plastic bag.