Benefits assessment nurse cautioned over Facebook abuse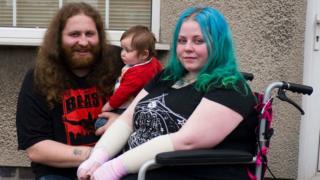 A benefits assessor who was fired for posting abusive comments on social media has been given a caution.
Rebecca Mellard said in a 2014 Facebook comment that she would like to "catapult" a benefit claimant "back to...[where] he came from".
She apologised and said she "felt remorse" for her comments, but was sacked last year.
The caution from the Nursing and Midwifery Council (NMC) panel will remain in place for three years.
More stories from around the East Midlands
Ms Mellard, who worked in Derbyshire for Capita, had also shared posts on Facebook from the far-right group Britain First before her social media comments were discovered.
Sarah Goldstein, of Ilkeston, Derbyshire, complained about the nurse after she had been turned down for benefits, and found the comments after looking on Ms Mellard's Facebook page.
The NMC panel said there was no evidence of "clinical concerns" about her work, so Ms Mellard had been cautioned but will still be able to work as a nurse.
Ms Mellard did not attend the NMC hearing in person, but accepted the comments "portray me as being prejudiced, nasty and uncaring" and "brought the nursing profession's name into disrepute".
Mrs Goldstein's husband Jay said he was "disappointed" Ms Mellard was still on the nursing register, and criticised the NMC for the lack of communication.
"We didn't even know they were investigating - we weren't told anything, we just found out from other people telling us," he said.
"The whole process has not been ideal."