Derby woman's plea after baby's ashes stolen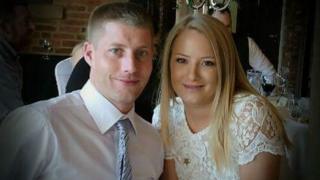 A woman has said it feels like she has lost her baby again after his ashes were stolen during a burglary.
Lauren Powell and Tom Bentley's son Thomas was stillborn in September.
Ms Powell returned to her Derby home on Friday evening to find a labelled box containing the ashes, as well as jewellery and cash, missing.
The couple are appealing for the box of ashes to be returned, even if it is just thrown over their fence. Derbyshire police are investigating.
Ms Powell, from Alvaston, said she got home to find the house in a mess.
"I looked in the dining room and the ashes had gone.
"I was frantically looking everywhere thinking they wouldn't have taken that, but they have."
She said the ashes were in a white cardboard box bearing the words "cremated remains of baby Thomas Bentley".
Facebook appeal
"They obviously thought it was something valuable. It is a small box, but it is quite heavy.
"We have not long lost him and I was already struggling to come to terms with that.
"Now the only thing we had has gone and it is like we have lost him again."
Ms Powell said she hoped whoever has them does the right thing and returns them.
"If they just leave it somewhere obvious... throw it over our fence, over the wall. Anything. I just hope someone has the heart to do the right thing.
"They just don't realise how much it means."
Her engagement ring was among the items stolen, but she said it seemed insignificant compared with the ashes.
Ms Powell has put out an appeal on Facebook which has already had more than 2,600 shares.