Dr Who and Star Trek props could fetch thousands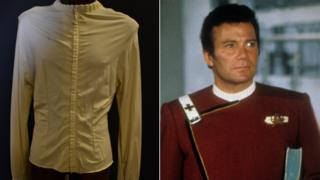 Clothing worn by William Shatner, a Cyberman helmet and a full-size Dalek are being auctioned this week.
The helmet, believed to have been used in a Dr Who episode in 1968, could fetch £10,000, while Shatner's shirt has a guide price of £3,000.
All the items belonged to a sci-fi memorabilia collector who said some props were rescued from being burned by Paramount studios in the 1980s.
Bamford's auctioneers is expecting thousands of bidders on Wednesday.
The Cyberman helmet was obtained by the seller's relative, who worked for the BBC at the time.
The Derby-based auctioneers said it bears "remarkable similarities" to one used in the episode Wheel in Space.
The gold Dalek, which has a guide price of £3,000, was operated from inside by a mobility scooter or via remote control and featured a voice-changing microphone.
Auctioneer James Lewis said it has a toilet plunger arm, which was common for the earliest incarnations of the infamous Dr Who baddies.
Captain James T Kirk's undershirt from The Wrath of Khan and Star Trek Generations has the name "Bill Shatner" written on the Paramount label.
Also for sale is an outfit worn by George Takei's character Sulu in the 1989 film Star Trek V: The Final Frontier. It is expected to fetch £3,000.
The outfits and props came after Paramount had a "clearout".
"They couldn't be bothered with trying to sell them or trying to find homes for them so they just put them in a huge heap and burned them," he said.
"These are lucky survivors that were liberated legally before the bonfire took hold".
Mr Lewis said there will be "thousands" of people bidding online at the auction on Wednesday.
He said the seller acquired many items while working for retailer John Menzies, where he organised book signings and film premier promotions in the 1980s.