Camra apologise for 'offensive' crossword in magazine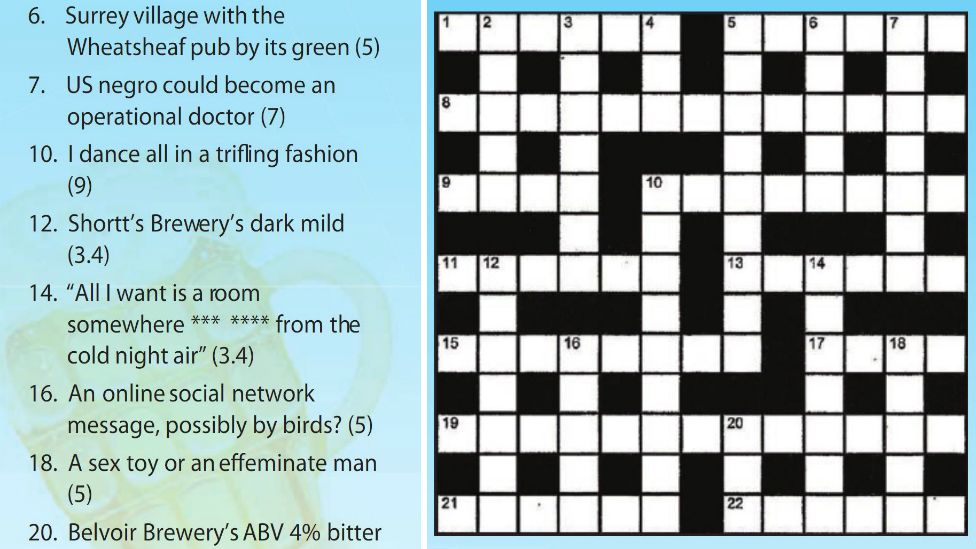 The Campaign for Real Ale (Camra) group has apologised after one of its branches published a crossword clue with the word "negro".
The crossword, printed in Derby Camra's bi-monthly magazine, also suggests "effeminate" men share a name with a sex toy.
The publication has been described as "homophobic" and "disgusting" by some social media users.
Camra said it had begun an investigation.
The crossword features on the back page of the January/February issue of Derby Camra's free magazine, the Derby Drinker.
One clue reads: "US negro could become an operational doctor (7)".
Another asks readers to fill in the squares with a word which relates to: "A sex toy or an effeminate man (5)".
@DerbyCAMRA Seriously, with this? We'd love CAMRA to broaden its demographic but it's things like this that put people off, day in, day out. There's no way this is acceptable and I'm ashamed any branch thought it was. 😤

— SE London CAMRA (@SELondonCamra) February 16, 2018
It's absolutely endemic of the culture that makes me and others feel not-welcome within your organisation. I hope you do take this seriously.

— Aileen Elsbury (@Mofette) February 16, 2018
In a statement, Colin Valentine, Camra's national chairman, said: "On behalf of Camra, I'd like to apologise for the offence caused by the publication of very inappropriate crossword clues in the Derby Drinker magazine, which involved a small number of members at local level.
"We do not condone the use of such language and it does not represent Camra, the views of our wider membership, or the values we stand for."
The crossword has been greeted with criticism on social media after a picture of it was shared on Twitter.
A digital version of the magazine has since been removed from the Derby Camra website.
Camra added the matter was being investigated by the Derby branch, Camra's regional director and members of the group's national executive.
Related Internet Links
The BBC is not responsible for the content of external sites.