Church of England's Sports Direct criticism praised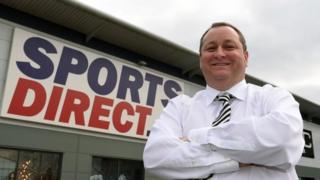 The Church of England has been praised for criticising working practices at Sports Direct, despite holding a stake in the high street chain.
The Church Commissioners, which manages its £7.9bn investment fund, attacked the retailer in a series of letters, the Press Association reported.
Unite, which highlighted "Victorian" conditions at the company's Derbyshire warehouse, said it shared the concerns.
Sports Direct said it had addressed the "historic issues".
The Church of England still holds a minority stake in tycoon Mike Ashley's chain, the BBC understands, but continues to engage over key areas of concern.
A spokesman confirmed it sent letters to Sports Direct attacking executive pay and working conditions.
The letters were sent over the last two years, when Sports Direct was dealing with union claims of not treating workers as humans at the Shirebrook headquarters, according to the Press Association.
The Church Commissioners voted against the re-election of both chairman, Keith Hellawell, and chief executive, Mr Ashley, at the group's 2017 AGM.
Mr Hellawell was re-elected despite 47% of independent shareholders opposing the move.
The Church also voted against an £11m back-payment to Mr Ashley's brother John Ashley.
It supported union calls for an independent review of working practices and corporate governance.
Unite praised the Church's criticisms, saying: "All too often we see shareholders being too passive but it can have reputational consequences."
The Church of England's ethical investment policy dictates that all investments should be compatible with Christian values and recommends against investment in companies which
make more than 3% of their income from pornography
10% from military products and services
25% from other industries such as gambling, alcohol and high interest rate lenders
However, in 2013 it emerged it had invested indirectly in payday loan firm Wonga.
Sports Direct said many of these "historic issues" had been addressed at September's AGM.
"We note that under its 2018 voting policy the Church will not back members of nomination committees where less than 25% of the board are women," the statement said.
"We recognise the value and need for female representation on the board, and we are taking steps to address this."