Derby junior doctors take break-time test case to court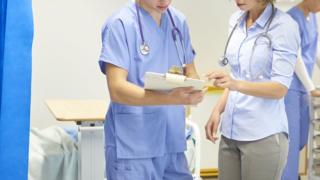 A test case could have a "dramatic" impact on the NHS and junior doctors, a court has been told.
A group of doctors claims Royal Derby Hospitals NHS Foundation Trust did not ensure they had proper breaks.
The High Court heard the staff should get a half-hour break for every four hours they are continuously on duty or be paid double for the time.
NHS lawyers said this could cost the trust £250,000 and open up claims from junior doctors across England.
Contracts 'misinterpreted'
A group of 21 doctors, headed by Sarah Hallett, claims the NHS failed to honour contracts over an eight-month period in 2013 and 2014.
John Cavanagh QC, for Dr Hallett, said: "The case concerns the entitlement of junior doctors to take breaks during the course of their working duties.
"This case is of general public importance... it is a test case which is of significance across the NHS."
He said the primary duty to ensure junior doctors get enough rest lies on the NHS trusts who employ them.
Mr Cavanagh insisted the case was not about money, but the principle which affects their safety and welfare, "with consequent effects on patient safety".
NHS barrister Richard Leiper QC argued Dr Hallett's case was based on a misinterpretation of junior doctors' contracts.
He said: "The potential cost to to the trust, let alone to the NHS as a whole, would be dramatic".
The hearing is expected to last four days.