Suffragette board game up for auction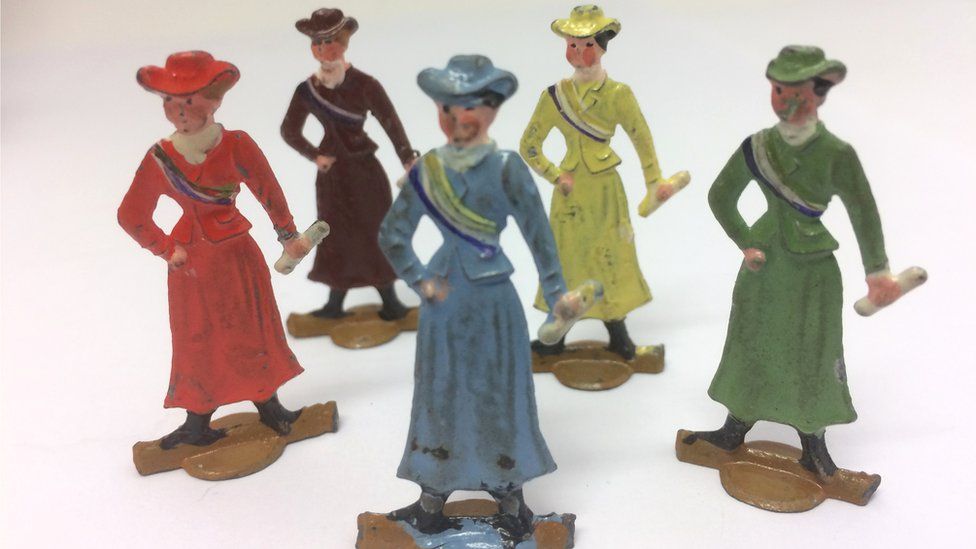 A suffragette-themed board game, where players would "dodge the police", is set to go under the hammer.
The 109-year-old Pank-a-Squith set, which was designed to raise money for the women's rights movement, was named after its leader Emmeline Pankhurst and the prime minister Herbert Asquith.
It was discovered at an antiques event in Warwickshire and will be auctioned in Derbyshire later this month.
The board game was first advertised in the Votes for Women newspaper on 22 October 1909.
It was distributed and sold through a network of shops run by the Women's Social and Political Union.
Valuer John Keightley found the game at an event held by Hansons Auctioneers in Alveston, Stratford.
He said: "It's a wonderful find. It dates back to around 1909 and is probably German.
"Pank-a-Squith was made to entertain supporters of the suffragette movement while raising funds for them and promoting their cause.
"It is essentially a glorified version of snakes and ladders where suffragette figures have to negotiate the board while avoiding arrest."
The incomplete set is expected to sell for about £100 when it is auctioned in Etwall, Derbyshire, on 27 March. A complete game has previously sold for £660.
Who was Emmeline Pankhurst?
Emmeline Goulden was born on 14 July 1858 in Manchester into a family of radicals. She married Richard Pankhurst, a lawyer and supporter of votes for women, in 1879.
Following his death, she founded an organisation campaigning for married women to be allowed to vote in local elections, and in October 1903, she helped found the Women's Social and Political Union.
The WSPU gained notoriety for its activities and its members were the first to be called "suffragettes" - politicians, press and the public were astonished by their demonstrations, window smashing, arson and hunger strikes.
In 1918, the Representation of the People Act gave votes to women over 30. Emmeline died on 14 June 1928, shortly after women were granted equal voting rights with men (at 21).
Related Internet Links
The BBC is not responsible for the content of external sites.