Etsy told to remove 'vile' Karen Matthews cards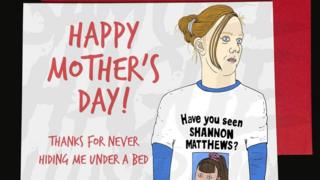 "Vile" greeting cards featuring Karen Matthews and Jimmy Savile should be removed from sale, a charity has said.
The NSPCC has described the Mother's Day and Father's Day cards, which are drawn in a cartoon style, as "thoughtless and irresponsible".
Freelance illustrator Samuel Hague, who sells the pieces via online marketplace Etsy, defended his work and said he does "not condone any acts of child abuse whatsoever".
Etsy has been approached for comment.
A Mother's Day card includes a drawing of Karen Matthews alongside the phrase: "Thanks for never hiding me under a bed."
In January 2009, Matthews was jailed for kidnapping her own daughter, Shannon Matthews, in an attempt to claim reward money.
A drawing of Josef Fritzl, the Austrian criminal who imprisoned his own daughter and fathered seven of her children, appears on a Father's Day card, as does prolific sex offender Jimmy Savile.
A NSPCC spokesperson said: "Using the trauma of child abuse to sell these vile greetings cards is thoughtless and irresponsible.
"We would urge this seller to reconsider and to remove these cards from sale immediately."
Mr Hague, 29, of South Normanton, Derbyshire, said the reaction to his cards has been "mostly positive", although he admitted they were "not to everyone's taste".
"I obviously do not condone any acts of child abuse whatsoever," he said.
"It's better to find humour in despicable acts and remember what happened, rather than stick your head in the sand and forget about it.
"I choose to express myself through comedy and art. That resonates with some people but will offend others."
He added the Karen Matthews card had been his "most popular" but said he would no longer sell them if they were removed from the Etsy website.