Derbyshire Police 'has highest gender pay gap'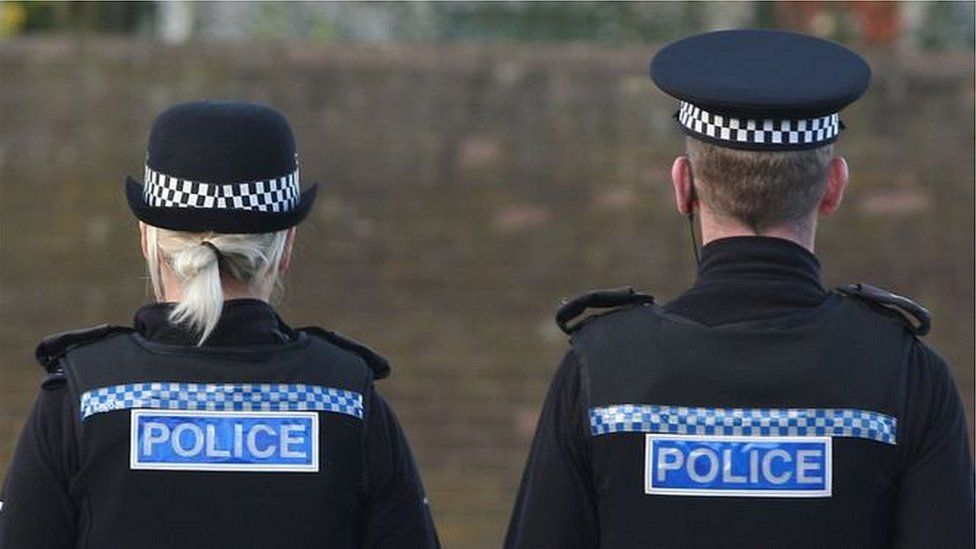 Derbyshire Police has the largest gender pay gap of any force in England and Wales, new figures show.
The 28.8% gap, the difference between the median average salaries of male and female staff, compares to 27.5% in Kent and 27% in Durham and Dorset.
All forces recorded a gap that favours men apart from Cleveland Police which had no difference.
Figures from the Government Equalities Office showed only seven out of 44 forces had a gap in single figures.
When comparing hourly rates, women at Derbyshire Constabulary earn 71p for every £1 men earn.
After Cleveland, the next smallest gaps are City of London Police with 0.3%, Devon & Cornwall with 5.3%, Lincolnshire with 7.6% and West Midlands with 8.0%.
The Metropolitan Police is among the forces with the lowest pay gap, with women being paid 12.5% less than men on average.
The Police Federation, which represents frontline police, said pay to its members was regulated by law and the issue was one that affected senior police staff.
The National Police Chiefs' Council (NPCC), which represents senior officers, acknowledged these roles were still male dominated - while there were more women in lower paid posts.
What is the gender pay gap?
The gender pay gap is the difference between the median average hourly earnings for men and women.
It is not the same thing as equal pay. Equal pay has been a legal requirement for 47 years and means men and women doing the same job have to be paid the same.
There are numerous reasons why a company may have a gender pay gap. One might be if a majority of men are in the top paid jobs while women make up a larger share of lower paid jobs.
If all men and women working at a firm are put in two separate lines in order of salary, the median pay gap would be the difference in salary between the woman in the middle of her line and the man in the middle of his.
But Chief Constable Dee Collins, the NPPC's lead for gender, said: "From a service that has in the past been portrayed as male dominated and masculine, we've seen a sea change and today some the UK's most high profile senior police officers are women.
"Women now making up 30 per cent of senior police officers. But clearly we need to be enabling more women to fulfil their careers in policing."
Derbyshire Police said it believed its result was heavily skewed, as it employed so many police staff directly rather than through external agencies, which are not included in the new figures.
The national median gender pay gap is 18.4%.
Derbyshire Constabulary - 28.8%
Kent Police - 27.5%
Dorset Police- 27.0%
Durham Constabulary - 27.0%
Cheshire Constabulary - 26.2%
Lancashire Constabulary - 24.7%
Leicestershire Police - 24.5%
Warwickshire Police - 22.0%
Humberside Police - 21.8%
South Yorkshire Police - 21.7%
West Mercia Police Authority - 21.7%
North Yorkshire Police - 20.8%
Essex Police - 20.7%
West Yorkshire Police - 20.7%
Avon & Somerset Constabulary - 20.4%
Suffolk Constabulary - 20.3%
South Wales Police - 20.2%
Northamptonshire Police - 19.5%
Thames Valley Police - 19.2%
Cumbria Constabulary - 19.1%
Hampshire Constabulary - 18.7%
Hertfordshire Constabulary - 18.4%
Staffordshire Police Headquarters - 17.9%
Wiltshire Constabulary - 17.6%
Gwent Police - 17.3%
North Wales Police - 17.3%
Merseyside Police - 16.4%
Northumbria Police - 15.0%
Sussex Police - 15.0%
Bedfordshire Police - 14.6%
Norfolk Constabulary - 14.5%
Greater Manchester Police - 14.1%
Cambridgeshire Police - 13.1%
Metropolitan Police Service - 12.5%
Surrey Police - 12.2%
Nottinghamshire Police - 11.6%
British Transport Police - 10.0%
Gloucestershire Constabulary - 9.1%
Dyfed Powys Police - 8.0%
West Midlands Police - 8.0%
Lincolnshire Police - 7.6%
Devon & Cornwall Police - 5.3%
City of London Police - 0.3%
Cleveland Police - 0.0%
Related Internet Links
The BBC is not responsible for the content of external sites.