Australia hostel stabbings: Accused will not stand trial for murder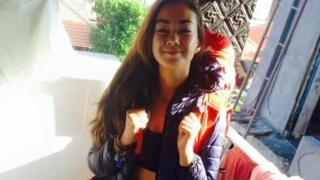 A man accused of stabbing two British backpackers to death will not stand trial for murder after he was ruled as being of "unsound mind".
Psychiatrists told a court in Australia that Smail Ayad was suffering from paranoid schizophrenia.
Mr Ayad, a French national, was charged with 16 offences, including the murder of Mia Ayliffe-Chung and Tom Jackson.
The 30-year-old was remanded to a mental health facility after appearing at the Mental Health Court in Brisbane.
Ms Ayliffe-Chung, who was 20 and from Wirksworth in Derbyshire, was stabbed to death in the bathroom of Shelley's Hostel in Home Hill, Queensland, on 23 August 2016.
Mr Jackson, 30, from Congleton in Cheshire, died in hospital several days later from injuries he received while trying to save her.
East Midlands Live: Shopkeeper admits child sex offences; Missing tortoise found after nine months
Josh Bavas, a reporter with ABC News, was in court for the hearing.
"In her summary, Justice Jean Dalton said the incident began with Ayad stabbing Mia Ayliffe-Chung in her room and the hostel manager when he came to help," Mr Bavas said.
"He then jumped out a window, fractured his back and neck, and went on to stab a nearby dog before returning to his first victim's room.
"That's where he then attacked Thomas Jackson who was trying to help his fellow backpacker Mia Ayliffe-Chung."
Shortly before Mr Jackson died his family said they were "immensely proud" of him.
Ms Ayliffe-Chung's mother, Rosie Ayliffe, travelled to Australia for the court hearing.
"He was described to me by the prosecuting attorney as a broken man, so my feelings towards him are ambivalent," she said.
"He has caused untold pain to me but at the same time I think he is paying a price for that."
Ms Ayliffe was satisfied even before the hearing that Mr Ayad had schizophrenia and other mental health problems.
"I've had to think hard about whether to go because I don't feel the need to see somebody punished for the crime that he committed," she said.
"For me, if he is mentally ill and he needs treatment there is no point fighting that judgment."
Psychiatrists told the court that Mr Ayad, 30, had been using cannabis almost every day since he was 12.
They said he was suffering psychosis over a number of days prior to the attack, and believed farmers were plotting to kill him.
Ms Ayliffe wrote to Mr Ayad's mother through her support worker.
"As a mother to a mother [I wrote] I want to speak to her and tell her there's no animosity from me to her and that I understand that as a mother she will be suffering," said Ms Ayliffe.
"I went into court this morning and she had replied to me and wrote the most beautiful email to me.
"There are no winners. We are all losers. We've all lost what we most cared for."