Man arrested over Ilkeston rape and attempted murder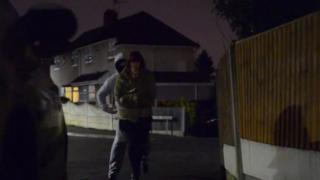 A man has been arrested on suspicion of the rape and attempted murder of a woman on a Derbyshire street.
The attack happened in Ilkeston, on 26 November, after the woman got off a bus in the early hours.
It led to a high-profile appeal by the police, with a £10,000 reward being offered.
The 42-year-old man was arrested on suspicion of attempted murder, rape, robbery and sexual assault and remains in police custody.
The attack happened in the after the woman got off a Trent Barton The Two bus on Nottingham Road, before walking along Manners Street.
She was forced to the ground, throttled unconscious and raped.
As part of the appeal, police confirmed they had the offender's DNA and staged a reconstruction of the attack.