Mystery Euro 96 tickets withdrawn from sale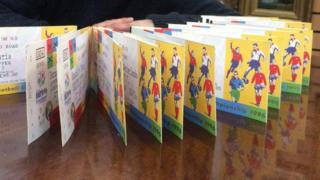 A set of unused tickets for the Euro 96 football tournament has been withdrawn from sale by an auction house after claims they were stolen 18 years ago.
The 31 tickets were found in a suitcase in Stoke-on-Trent and were set to be auctioned in Derbyshire.
Ben Edwards, 40, whose name matches those on the tickets, said they were printed as souvenirs where he worked in 1996 and were stolen near his home four years later.
Police said they were investigating.
Mr Edwards worked at Synchro Systems in Newcastle-under-Lyme which was then managed by his mother Beverley Lovatt.
The firm distributed tickets for the tournament and, after its conclusion, a small number of sets were reproduced for staff.
Mr Edwards claimed he was preparing to move house in 2000 when boxes of his possessions were taken including the dummy tickets to every match in the tournament.
He said he was shocked when a friend told him that they had been found.
"It brought back a load of memories," he said.
"It was a good summer, I was just 18, old enough for the pub, [Euro 96] was big for the country and for the company.
"I never thought I'd see them again... I reported them stolen but nothing came of it."
When the story first emerged it was a mystery as to why the tickets, which had a total face value of £1,680, had never been used.
The man who took them to be valued said they had been inside a suitcase his mother had given him 10 years ago.
However, Chris Salt read about the discovery and said his mother, Pauline, who worked with Mrs Lovatt, had given him an almost identical set of tickets, but with his own name printed on them.
Mr Edwards, whose mother has since died, said he would like his set back to pass down to his son.
Charles Hanson, from Hansons Auctioneers, said it had withdrawn the lot because it had "a duty of care to ensure title in property is true and correct".
Staffordshire Police said it was checking to see if it could find a record of the original theft report.
---
When football came home...
Euro 96 was the first major football tournament to be held in England since the 1966 World Cup
Sixteen teams played in eight English cities, including Liverpool, Manchester and Nottingham
England, after a draw against Switzerland, beat Scotland 2-0 and thrashed the Netherlands 4-1
A penalty shoot-out followed in the quarter-final match with Spain
England were then beaten on penalties by Germany, at Wembley, in front of 75,862 people
Germany went on to win the tournament, beating the Czech Republic courtesy of a "golden goal" in extra time