Dambuster flies over Derwent Valley in surprise Lancaster mission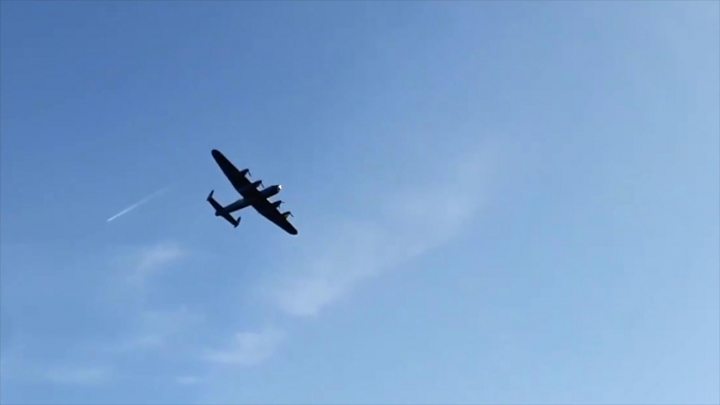 The last surviving British member of the Dambusters raid has flown over the Derwent Valley in a Lancaster bomber.
Squadron Leader George "Johnny" Johnson, 96, was meant to fly over on Wednesday to mark the mission's 75th anniversary.
Crowds of people were disappointed when it was cancelled due to bad weather.
But the Battle of Britain Memorial Flight reorganised the flypast at short notice for 08:30 BST so Mr Johnson did not miss out.
"It has been a wonderful trip and it's surprising how 75 years just disappear," he said.
"Over the Derwent Dam, the time was gone - just like that. I was back there, thinking about the times that we went there."
A spokesman for the Lincolnshire-based team said the rescheduled flight - which was where the Dambusters originally trained - was unannounced due to safety reasons.
Squadron Leader Andrew Millikin said: "We are thrilled that we were able to finally mark this amazing anniversary in such a poignant way."
He said the Lancaster flew a "shortened sortie" and his colleagues were "bitterly disappointed" that the weather stopped them on Wednesday.
Squadron Leader Millkin said the short notice did not give Derbyshire County Council time to organise safety measures to handle the large volumes of traffic.
"But we felt it was important to fly Johnny on this historic day," he added.
Nick Totterdell filmed the Lancaster as it flew over Ladybower Reservoir in Derbyshire, and said there was nobody else there.
"We walked over 11 miles yesterday to watch the Lancaster and had a great view of the Typhoon," he said.
"This morning a pal spotted the Lancaster on its way and told me to get down to Ladybower, so I drove down from our house in my pyjamas."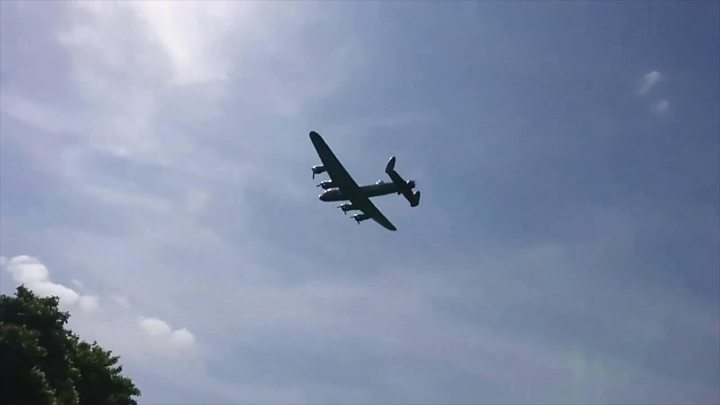 The flight marked the 75th anniversary of the Dambusters raid and the centenary of the Royal Air Force.
Mr Johnson flew in the bomb aimer's position, the same position as in 1943 when the 617 Squadron bombed German dams.
Codenamed Operation Chastise, it was immortalised in 1955 film The Dam Busters. The only other surviving Dambuster is Canadian Fred Sutherland.