Sisters call for cameras in care homes after mother's ill treatment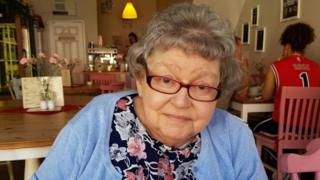 Three sisters are calling for cameras to be installed in care home residents' rooms after they found their mother was being ill treated.
Three former care home workers were given suspended jail sentences after the sisters set up a camera.
Their mother, Joy Lewis, 71, was filmed being drag-lifted into her bed - when lifting equipment should have been used - and being denied use of a toilet.
Farrington Care Homes Ltd, which ran Brookside House, declined to comment.
The camera also revealed that Ms Lewis, who has Parkinson's disease and dementia, was not turned in the night despite her having bed sores.
The footage, filmed at the Nottingham care home in May 2017, recorded audio of another resident who was refused help despite repeatedly asking to go to the toilet. He was then verbally abused when he soiled himself.
Ms Lewis left Brookside House in August and the care home closed shortly afterwards.
'Begging for food'
Kelly Lewis, of Somercotes, Derbyshire said the worst thing recorded on film was when her mother asked for the toilet after being woken at 05:00.
"They were saying 'in a minute, we have other people to get up'. My mum isn't incontinent, she wanted the toilet. Then this goes on of her shouting, screaming and begging.
"She offers to pay them if they just help her. She was begging for food, water and the toilet, which is just disgusting. These are basic needs that should have been taken care of."
She added her mother is now a "different person" and is "relaxed and happy" since moving to another care home.
The sisters now want relatives to have the right to have cameras installed in the rooms of vulnerable people, with the care home's knowledge.
Teresa Bestwick, of Somercotes, said: "There is so much people don't know is happening. If we hadn't trusted our instinct, it could still be happening to our mum."
Follow BBC East Midlands on Facebook, on Twitter, or on Instagram. Send your story ideas to eastmidsnews@bbc.co.uk.