Police review after rape case collapses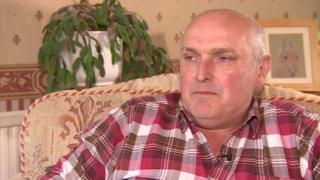 A man accused of rape who spent eight months in jail awaiting a trial which later collapsed has described the experience as a "living nightmare".
Robert Adlington, 53, was remanded into custody at Nottingham Prison after being charged with a number of offences.
The case collapsed when police released new text transcripts between Mr Adlington and the complainant.
Derbyshire Police said its investigation would be reviewed.
The Crown Prosecution Service (CPS) said Mr Adlington was first charged with harassment and arson with intent to endanger life in May 2017 and was remanded in custody.
He was later charged with rape in October 2017 but the following month a CPS lawyer requested an examination of the complainant's phone.
The material, which was not received by the CPS until 11 January, revealed messages between the alleged victim and the defendant which were "relevant to the rape matters".
A further interview with the complainant took place and the CPS stopped the case on 16 January. All charges were dropped at this point.
Mr Adlington said he was now living with his mother in Chesterfield after the ordeal had caused him to lose his home and his business as a landscape gardener.
"It's a living nightmare," he said. "You've got to follow all the protocols of the place [prison], you've got to gel in with everybody else or you would totally lose the plot," he said.
"Every day you think, 'something's going to happen today'."
The government insists it is taking action to improve safety at Nottingham Prison after the chief inspector said the death rate was "tragic and appalling".
Det Ch Supt Kem Mehmet, of Derbyshire Police, said: "We have already referred our investigation into this case to an independent regional review team.
"Once the review is complete, we will ensure that any lessons are learned and may then be in a position to comment further."
A CPS spokesman said: "We are content that we complied with our disclosure obligations in this case and that the prosecution was promptly discontinued after we received new material and concluded the evidential test was no longer met."
Follow BBC East Midlands on Facebook, on Twitter, or on Instagram. Send your story ideas to eastmidsnews@bbc.co.uk.