Rolls-Royce cuts 'too far and too fast', Derby MP warns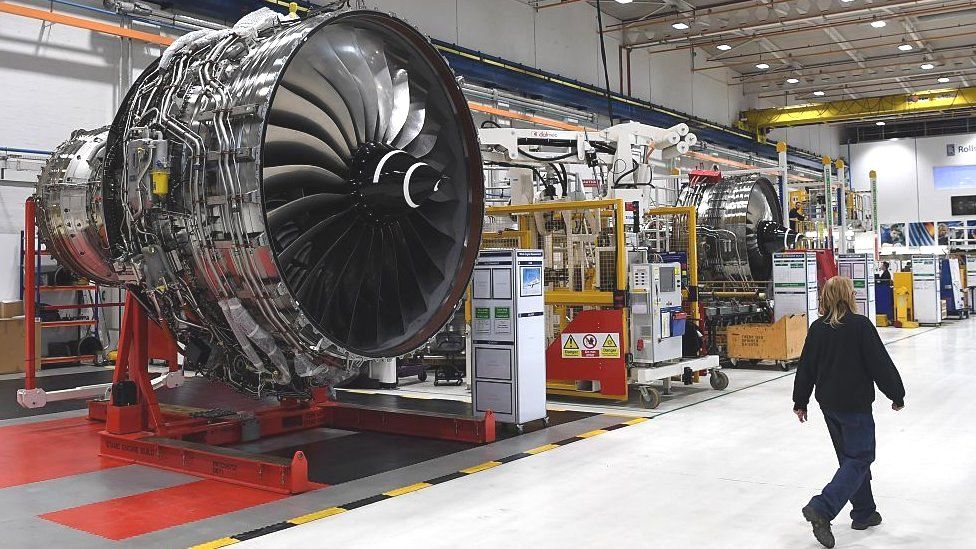 Job cuts at Rolls-Royce in Derby may have been made "too far and too fast", one of the city's MPs has warned.
It is believed most of the 4,600 posts will go in middle management and backroom staff at the firm's city headquarters.
The aero engine-maker said it was part of restructuring plans to increase profits and secure its future.
But Derby South MP Margaret Beckett said she feared the move would have a "substantial economic impact".
Rolls-Royce said the programme would cost £500m to carry out, including redundancies, but would save it £400m a year by the end of 2020.
Labour MP Mrs Beckett said: "It is very sad. It is likely to have a substantial economic and social impact on the city.
"It looks as if most of the people affected will be Derby-based and you have to be worried for those affected.
"Derby has prospered over the years as a base for engineering excellence - and I'm glad to hear investment will continue - but there is anxiety the company is cutting too deep and too fast."
The company has been producing engines in Derby since 1908, four years after Henry Royce was introduced to Charles Rolls in Manchester.
More than 5,000 jobs have already been cut, saving £250m, through a series of rationalisation programmes since the first of five profit warnings in 2014.
The company's earnings for 2017 were better than expected, with profits before tax of £4.9bn, but this followed a £4.6bn loss in 2016 - the largest in Rolls-Royce's history.
Social media has seen some strong reactions with @stace_dcfc tweeting it was "savage news".
Savage news this morning from Rolls Royce. The cuts are going to hit Derby and The surrounding area very hard indeed. There will be no help from central government though as we aren't in the south @BBCDerby

— stace (@stace_dcfc) June 14, 2018
Rob Corden, a stallholder at Derby market, said: "It's going to have a knock-on effect. Four and a half thousand jobs out of Derby, the income drop, it's going to hit us.
"Big businesses and small businesses like myself are under strain as it is."
Shopper Alex Nix said: "I think it will definitely change the mood of the city... it is an important place.
"A lot of young people also are not going to have a lot of confidence in waiting for a job at Rolls-Royce.
"It might force them to look elsewhere for work which will in turn cost them more money just in travel probably."
But Oliver Walker-Jones, who works in communications at the company, said: "This is something we need to do to make us as agile as we can be for the future."
Industry analyst Howard Wheeldon said the company was facing reality: "It is a very competitive market and unless they are efficient they will lose out, there will not be a future.
"It is a company that was top heavy in terms of management and systems.
"It's a tough call and a lot of people who have worked at the company for a long time will find their jobs are no longer there but all companies need to address the need for greater efficiency."
Unite assistant general secretary for aerospace, Steve Turner, said: "Unite will be offering our members maximum support through this process and seeking assurances on no compulsory redundancies from Rolls-Royce for Unite members affected by this announcement.
"Over the coming days Unite will be working with Rolls-Royce, relevant agencies and other employers to find people affected alternative employment and to retain skills in the aerospace sector."
Rolls-Royce employs 23,000 people in the UK out of a total workforce of 50,000.
In June 2017, Rolls-Royce cut a deal with unions to safeguard 7,000 front-line engineering jobs in the East Midlands for five years and invest in UK aerospace facilities.
Related Internet Links
The BBC is not responsible for the content of external sites.