Usain Bolt's 2012 Olympic Games shoes stolen in burglary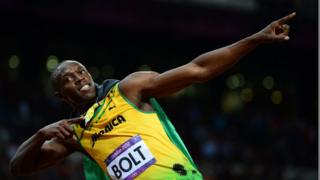 A pair of "absolutely irreplaceable" running shoes worn by Usain Bolt in the London 2012 Olympics have been stolen from a house in Derbyshire.
The running spikes were signed by Bolt after he wore them in a heat of the 100m during his world record-breaking campaign.
They were taken from a house in Linton on Sunday and a man has been charged with burglary.
The shoes have not been found and police have appealed to find them.
The victim, who does not want to be named, said: "The spikes are part of an extensive collection that I have built up over the last ten years.
"There are only four or five pairs of spikes that have been signed from the London 2012 Olympics - they are absolutely irreplaceable."
Christopher Fletcher, 35, of no fixed address, has also been charged with a further nine burglary offences and has been remanded to prison after appearing in court.
Anyone with information about where the shoes are has been asked to contact Derbyshire Police.