'Exceptional' ancient ring collection to be auctioned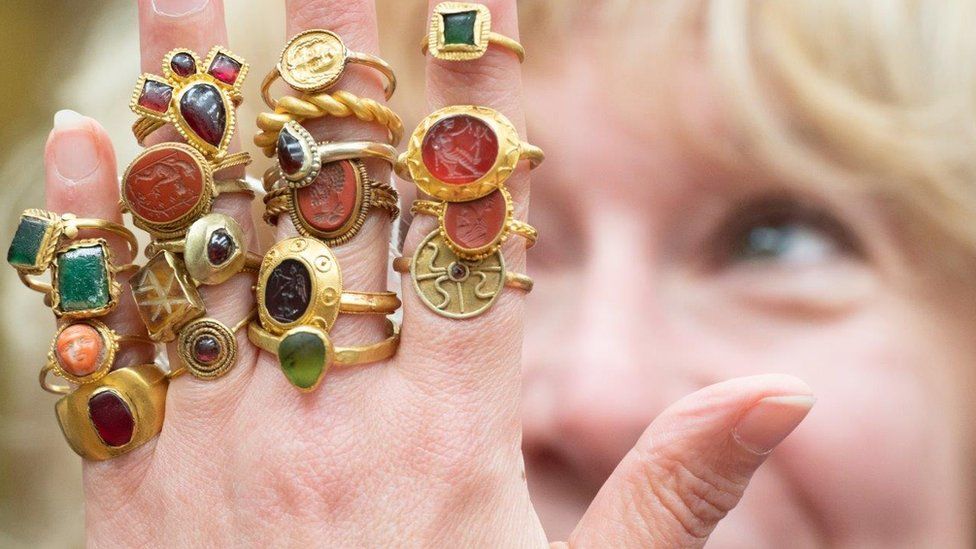 A "incredible" collection of ancient rings, collected by a gas engineer then stored away, is to go under the hammer.
The set of more than 50 rings covers eras from Alexander the Great to Middle Ages via the height of the Roman Empire.
The "museum standard" items are believed to have been bought at sales across England in the 1950s.
Hansons Auctioneers said it could be "the biggest collection of ancient rings ever seen outside a museum".
The current owner, who has asked not to be named, said their grandfather, who lived in Leicester, travelled around England as part of his job.
They said: "He was a quiet man and never said if any of the rings were found on site when they were working but I do know he bought many of them at auctions, some up north.
"After he died, we put the rings away for many years but now we've decided to sell them as we'd very much like other people to enjoy them."
The group includes everything from Viking rings in twisted gold to medieval rings with a single gem stone but Hansons said the Greek and Roman rings are particularly rare.
One is a 4th-1st Century BC East Greek Hellenistic gold ring with cabochon garnets, which has an estimate of £3,500-£4,500.
Another is a Roman gold ring from the 2nd Century AD with a carnelian engraved bust of Vibia Sabina, the wife of Emperor Hadrian, with an estimate of £2,200-£2,600.
James Brenchley, from Hansons, said: "The sheer quantity was incredible.
"These rings are between 2,200 and 1,800 years old and many are exceptional and extremely rare. Each one is unique and many demonstrate extraordinary craftsmanship.
"This is possibly the biggest collection of ancient rings ever seen outside a museum."
The collection will be sold by Hansons Auctioneers in Derbyshire on June 28.
Related Internet Links
The BBC is not responsible for the content of external sites.