Derbyshire fracking exploration inquiry opens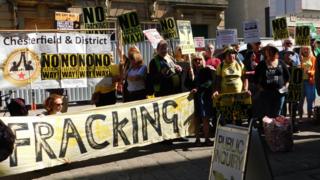 Plans to drill rock 1.5 miles (2.4km) below ground to seek shale gas deposits in Derbyshire could increase traffic and pollution, an inquiry has heard.
Derbyshire County Council launched the public inquiry into proposed exploratory mining in Bramley Moor Lane, near to the village of Marsh Lane, north of Chesterfield.
Residents and anti-fracking protestors raised fears over the impact on roads and potential ground water pollution.
A decision is expected on 29 June.
Approval for the scheme, which was launched by petrochemical company INEOS, seeks to begin exploratory mining and would see a 60-metre (197ft) tall drill erected on the site.
Gordon Steele, representing INEOS, said the appeal before the inquiry "is for exploratory mining, not fracking".
According to the Local Democracy Reporter Service, it would include a "listening well" to search for shale gas, construction of an exploratory drill and the building of an access track, with the well equipment being kept for up to five years and the drill being operated for three months.
If shale gas is found, then fracking could begin on the site, but this would require another planning application.
A bid to begin exploratory mining was rejected by the council's planning committee in February.
The inquiry, held at the Assembly Rooms in Chesterfield, heard the proposed noise from the drilling would be 42 decibels (db).
The background noise in the rural countryside, where the proposed development would sit, would be 25db - twice the level of a whisper.
Guidelines given at the inquiry by Keiran Gaylor, acoustic consultant, state that noise should not exceed background noise levels and should never be higher than 10db above background noise levels in an area vulnerable to noise impacts.
David Kesteven, chairman of Eckington Against Fracking, said the plans should be rejected.
"If you think of hanging a motorbike from a crane in a quiet rural field and leave it running for three months, I think you'll understand why we say that this is environmentally unacceptable," he said.
Fracking involves injecting water and chemicals at high pressure into rocks to create tiny cracks, allowing the gas to flow up a well to the surface where it can be collected.
An approval of this application would set a precedent in the county, and could lead to further fracking or exploratory mining sites cropping up in further locations across Derbyshire.
Planning inspector Elizabeth Hill will determine if the scheme is granted permission to go ahead.