Two bird-eating tarantulas 'may be on the loose' in Derbyshire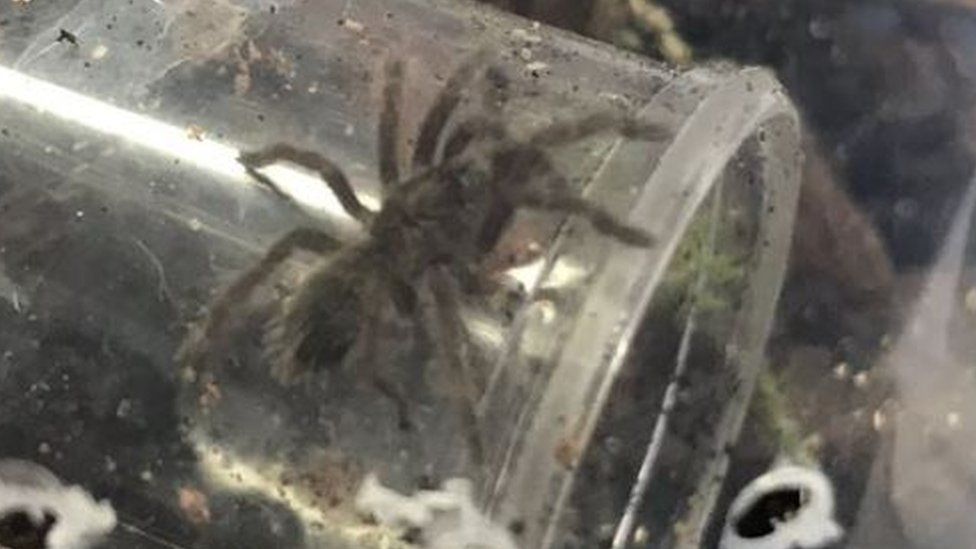 Two huge tarantulas may be on the loose after three baby tarantulas were found in a car park without their parents.
The RSPCA rescued the baby Brazilian bird-eating spiders after being found in pots in Somercotes, Derbyshire.
However, two of the larger pots had been run over by a vehicle and it is thought the two adults may have been in these and escaped.
This tarantula species is one of the world's largest with a leg span of up 10in - the size of a dinner plate.
The spiders are partially pink and usually live on the forest floor in Brazil. They usually eat insects, lizards and mice, and also snack on the occasional small bird.
RSPCA inspector Kristy Ludlam said the woman who found the baby spiders in Bateman's Yard Stable's car park, Somercotes, on Thursday and contacted the RSPCA "was understandably shaken" as she is "terrified" of them.
She added: "It appears someone ran over two of the pots and the driver told the woman who called us he thought he saw two larger spiders. No bodies were found so it is assumed they may have escaped.
"We collected all the pots and took them to a specialist who found three baby arachnids in them, which he believes are bird-eating spiders - when he opened one pot a spider ran up his arm.
"He is keeping all the pots warm and secure as there is a possibility more eggs may hatch."
It is an offence under the Wildlife and Countryside Act to release or allow to escape any non-native species into the wild.
The spiders have been taken to Arnold and Carlton Veterinary Centre, in Nottingham, where they will be cared for until they are ready to be rehomed.
Anyone with information about the spiders should contact the RSPCA.
Related Internet Links
The BBC is not responsible for the content of external sites.