'Lost in space' Bakewell pudding found in Lincolnshire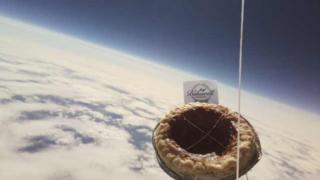 A Bakewell pudding that went missing after being launched towards space has been found on a farm in Lincolnshire.
The dessert was attached to a high altitude balloon by pupils at a Derbyshire school in June.
It went missing after tracking devices recorded it at 52,500ft (16,000m) over Saxilby, Lincolnshire, with search efforts sparking interest online.
The celestial pudding was found on Saturday near Louth and even astronaut Tim Peake has tweeted the good news.
Farmer Neil Pawson, 53, found it in an asparagus field while walking his dog in Donington on Bain.
He said: "I was on a public footpath and looked up, saw something white and went to investigate - it could have been an injured swan or something.
"I thought it was obviously a school experiment. Then I traced it down to the box, and thought 'ahhh'," he added.
"We often find balloons, but not something like this."
Nick McCloud, who helped pupils at S. Anselm's Preparatory School with the launch, said the pudding had "very clearly been nibbled round the edges", adding he would be buying Mr Pawson a replacement pudding as thanks.
The farmer had already contributed to a fundraising project run as part of the experiment, with more than £1,600 to be donated to the Guide Dogs for the Blind.
Among those following the fortunes of the flying foodstuff was Stephen Fry, whose tweet about its mysterious disappearance attracted more than 5,000 likes.
Follow BBC East Midlands on Facebook, on Twitter, or on Instagram. Send your story ideas to eastmidsnews@bbc.co.uk.