UK heatwave exposes ancient Chatsworth House gardens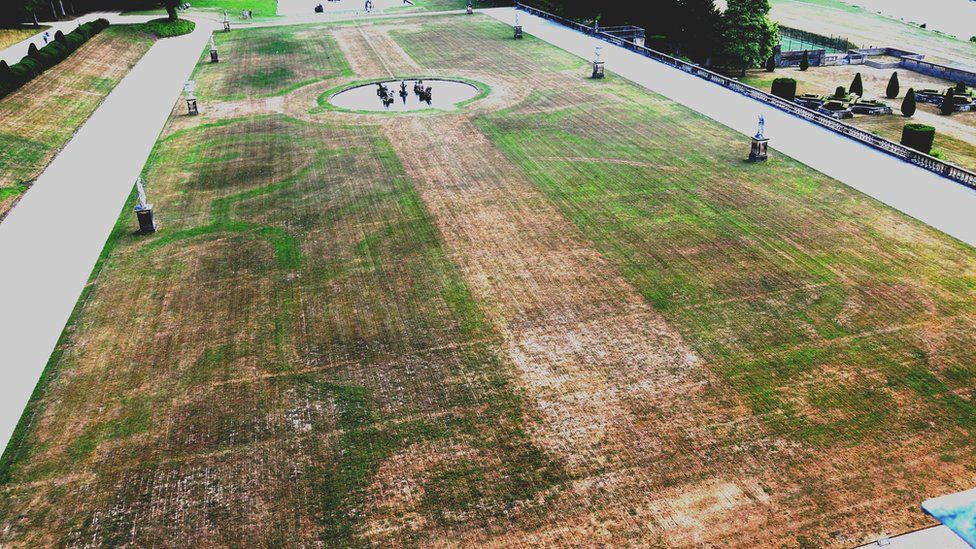 The UK heatwave has exposed the remains of an ornate 17th Century garden design at Derbyshire's Chatsworth House.
The patterns of where flowerbeds and paths once were can be seen under the South Lawn's scorched grass.
Head of gardens Steve Porter said he had known the designs that date back to 1699 were hidden underneath the lawn.
Mr Porter said: "It wasn't a lost landscape or anything - we knew it was there.
"But the fact is, it's normally a green lawn so everything is hidden underneath so it's not visible.
"The scorched and dry weather we're suffering at the moment has meant that the areas where there were paths and things underneath are showing up nice and clearly now so you have the nice defined pattern of flowerbeds and paths."
The 105-acre garden and stately house is home to the Duke and Duchess of Devonshire, passed down through 16 generations of the Cavendish family.
Earlier this year, the hot weather revealed a "ghost" of Clumber House - a grand 18th Century mansion demolished in 1938 - in Clumber Park, in Nottinghamshire.
The outlines of rooms and corridors became visible as stone foundations made the ground heat up more quickly than surrounding earth, scorching the soil above to a lighter shade.
The building that once stood on the imprints was torn down after a series of fires and economic downturn.
During a dig in 2016, cellars - not demolished - were discovered on the National Trust site.
Now an archaeological dig is due to begin at the estate to determine whether the cellars are still accessible.
Related Internet Links
The BBC is not responsible for the content of external sites.