Activists march against 'absurd' Derbyshire badger cull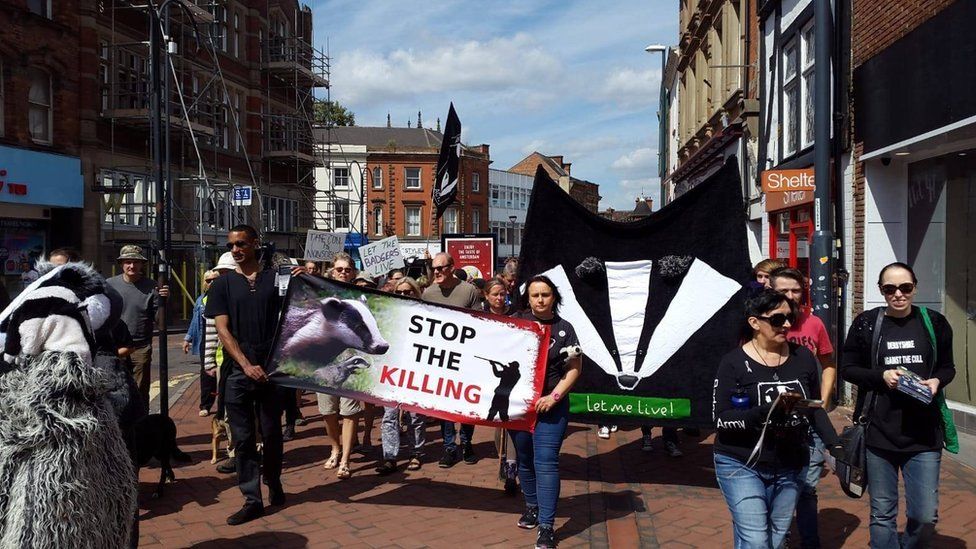 Animal rights activists have marched through Derby to raise awareness of an "absurd" badger cull that is expected to begin in September.
A group of farmers has applied for a licence to kill badgers in Derbyshire in the belief it will help prevent the spread of bovine tuberculosis (TB).
However, Derbyshire Wildlife Trust already has a programme of vaccinating badgers against the disease.
Campaigners therefore argue that killing them does not make sense.
The names of the farmers behind the application to Natural England are not publicly available so the BBC has not been able to give them the opportunity to respond.
Tom Jones from Derbyshire Against the Cull said: "It seems incredible that they are considering culling in Derbyshire because there's such a massive vaccination programme going on, it's the biggest in the UK."
High Peak MP Ruth George said: "It's very important that we keep the culling at bay so we can actually see, scientifically, what impact the vaccination programme is having here."
Mr Jones said his group is in contact with many farmers in Derbyshire who oppose the cull but are afraid to speak out because of pressure within the farming community.
Mr Jones said that farmers should improve their own practices to prevent bovine TB and claimed badgers are being used as "a scapegoat".
Minette Batters, deputy president of the National Farmers' Union, previously said: "No one has ever said culling alone will eradicate bovine TB.
"Only by using all the available options - cattle testing, cattle movement controls, on-farm biosecurity, and vaccination of badgers in areas on the edge of disease spread - will we stand a chance of controlling and eradicating this devastating disease."
Derbyshire Wildlife Trust, which started vaccinating badgers on its nature reserves as an alternative to culling in 2014, said it remained "steadfast that vaccinating badgers is the alternative to a badger cull".
Related Internet Links
The BBC is not responsible for the content of external sites.