Goddess image on beer label angers Hindu activists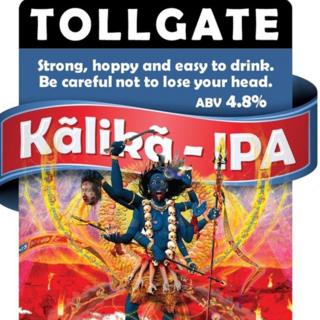 A Hindu organisation has criticised a Derbyshire brewery for using an image of a goddess on one of its beers.
Kalika, by Tollgate Brewery, used an image of the goddess of the same name on its label.
Rajan Zed, president of the Universal Society of Hinduism, said using a likeness of the "highly revered" figure "hurts" the religion's followers.
Tollgate Brewery confirmed in a statement it no longer brews the beer and has "no plans to brew it further".
Latest updates: Woman waited 17 hours for ambulance crew to arrive; Drunk smashed man over head with guitar
The goddess Kalika, also known as Kali, personifies Sakti or divine energy and is considered the goddess of time and change.
Mr Zed said Hinduism has "a rich philosophical thought and it should not be taken frivolously".
"Symbols of any faith, larger or smaller, should not be mishandled," he added.
Last year Welsh brewery Tiny Rebel was forced to change its can design for Cwtch - which was selected as the Champion Beer of Britain at the Great British Beer Festival in 2015 - after it was deemed to be "too attractive" to children.
Marble Brewery from Manchester was asked by Trading Standards to "reconsider" selling a beer called Pint in 500ml cans, while Top Totty, a blonde beer brewed by Staffordshire-based Slater's Ales, was removed from one of the pubs in Parliament after an MP complained over its "offensive" pump clip.
Scottish brewery BrewDog was criticised for brewing a "beer for girls" to mark International Women's Day in March, while Heineken was drawn into a political row in Argentina after referring to the Falkland Islands as British.
Follow BBC East Midlands on Facebook, on Twitter, or on Instagram. Send your story ideas to eastmidsnews@bbc.co.uk.