Mystery 'sick' stench reported in Derby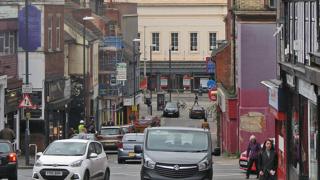 A mysterious foul smell has got up the noses of people in a city.
The "sick"-like whiff has been reported across Derby's city centre and suburbs. One shop said it was "running dangerously low on air freshener".
Derby Council and Severn Trent both said they have received no complaints and did not know what was causing the pong.
The Environment Agency, police and fire services confirmed there were no reports of chemical spills or leaks.
East Midlands Live: Woman charged with murder after death of newborn baby; Man banned for driving BMW at more than 140mph
The smell has been described by residents as "like sick", "like sewage" and "like poo".
One woman told BBC Radio Derby: "When I came out of Derby Royal Infirmary I could smell it there. I can smell it in town. It smells like it's all sick."
A man added: "It smells like sewage. It is not very pleasant. You don't want to breathe in."
Another said: "It just smells like fields, like manure. It smells like poo basically."
A city centre resident said: "I took the rubbish out and I thought it was my bags, but it was everywhere. It is disgusting. I don't know what it is - it's just like sewage."
"It is like a pungent smell," another man said.
Christine Stangroom posted on Facebook: "It smells like muck spreading in Oakwood this morning. Probably just wind blowing from farmers' fields towards the city."
Jeanette Kent added: "It's not just Derby city centre, can smell it in Oakwood and Chaddesden!"
The Environment Agency said anyone who wishes to report the smell should ring 0800 80 70 60.
Follow BBC East Midlands on Facebook, on Twitter, or on Instagram. Send your story ideas to eastmidsnews@bbc.co.uk.