A 300-year-old clock found on Derbyshire estate sells for £230k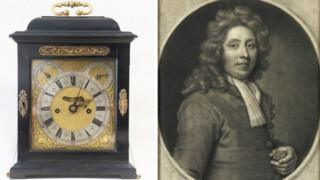 A 300-year-old timepiece made by England's most famous clockmaker has sold at auction for hundreds of thousands of pounds.
The bracket clock from 1690 was made by Thomas Tompion - named by the auctioneer as "Father Time".
The clock had been found on the Belper estate of a man linked to the mining industry.
It was bought by an anonymous UK buyer for £230,000 when it went under the hammer on Friday.
Auctioneer, Charles Hanson, said: "It's a truly magnificent and historically important object which thoroughly deserves to achieve this sale figure.
"It is a particularly fine example of Tompion's work - work which has stood the test of time.
"Tompion was an inventor as well as a maker of clocks of the finest quality.
"He developed an unrivalled reputation worldwide and his work is still admired to this day. I call him Father Time."
Latest news from the East Midlands
Who was Thomas Tompion?
The son of a Bedfordshire blacksmith, he was friends with mathematician and scientist Robert Hooke, which is thought to be the key to Tompion's success as it opened doors to the latest technology.
When the Royal Observatory was established in 1676, King Charles II selected Tompion to create two identical clocks which were fixed in the Octagon room, with both clocks needing to be wound only once a year. They proved very accurate and were instrumental in achieving the correct calculations needed for astronomical observations.
Tompion also made some of the first watches with balance springs and created the standard mechanism pattern used in English watches throughout the 17th and 18th centuries.
His workshop built about 5,500 watches and 650 clocks which are renowned for their ingenious design and robust construction.
Tompion's other works included mathematical instruments and sundials, one of which can be seen at Hampton Court Palace.
He died in 1713, aged 74, and is buried at Westminster Abbey
Source: Royal Collection Trust
Follow BBC East Midlands on Facebook, Twitter, or Instagram. Send your story ideas to eastmidsnews@bbc.co.uk.