Matlock Bath's links to Frankenstein celebrated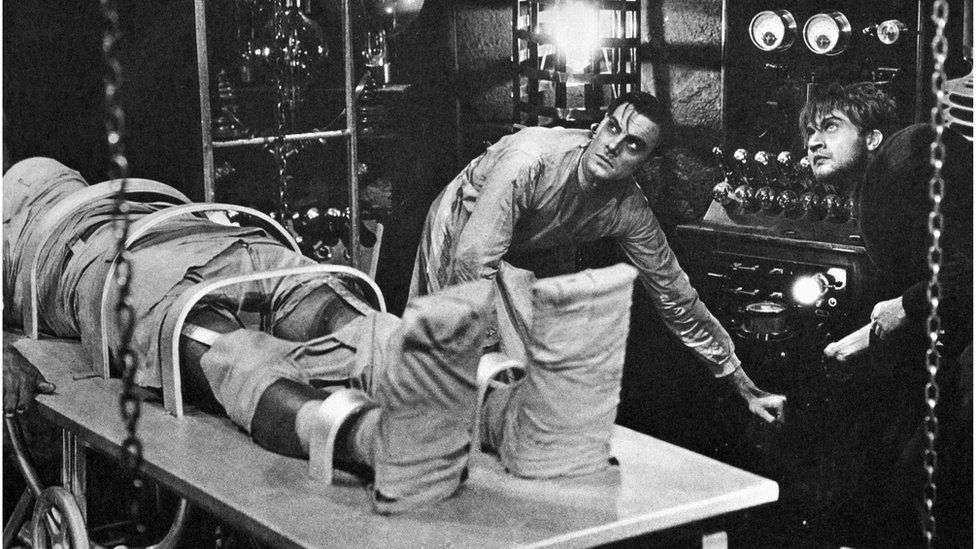 A Derbyshire village mentioned in Mary Shelley's Frankenstein is celebrating its links to the author with a gothic festival.
Matlock Bath is visited by the character Victor Frankenstein in the novel, who describes a "wondrous cave" and "little cabinets of natural history" .
The village was nicknamed "Little Switzerland" by Lord Byron due to its Alpine features.
The festival runs until 4 November.
Shelley's novel, which was first published anonymously in January 1818, tells the story of Swiss scientist Victor Frankenstein who brings a body to life, which he eventually rejects and abandons.
At one point the protagonist is en route to Scotland to make a female companion for the creature when he stops in Matlock Bath, admiring its "scenery of Switzerland".
Festival organiser Peter Baranek said the phrase most likely came from Lord Byron, who was a friend of Mary Shelley's and a frequent visitor to the Derbyshire village.
Excerpt from Frankenstein by Mary Shelley
"We left Oxford with regret and proceeded to Matlock, which was our next place of rest. The country in the neighbourhood of this village resembled, to a greater degree, the scenery of Switzerland; but everything is on a lower scale, and the green hills want the crown of distant white Alps which always attend on the piney mountains of my native country.
"We visited the wondrous cave and the little cabinets of natural history, where the curiosities are disposed in the same manner as in the collections at Servox and Chamounix.
"The latter name made me tremble when pronounced by Henry, and I hastened to quit Matlock, with which that terrible scene was thus associated."
Mr Baranek said Shelley "must have known about" a feature described as a "wondrous cave" through Byron, but it is unclear which of the village's caverns Dr Frankenstein was referring to.
Masson Cavern has been selected for readings of short stories written as part of a competition.
Mr Baranek and his fellow researchers, are "pretty certain" the "little cabinets of natural history" is related to the village's "petrifying well" .
The water, due its mineral deposits, gives an object a stony appearance and many of these items, including petrified hats, baskets, eggs, have always been on public display.
Related Internet Links
The BBC is not responsible for the content of external sites.